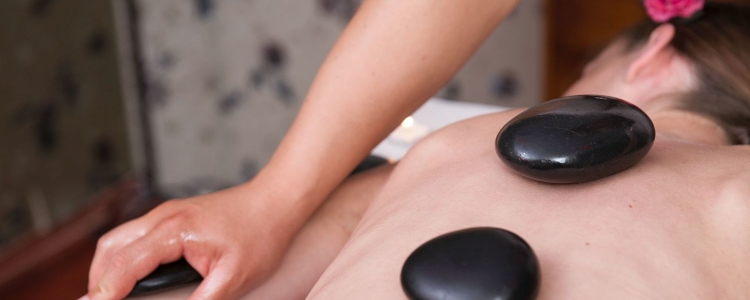 Which are the best spa treatments to help busy women relax? We've talked about relaxation habits, laughter as medicine, the best magazines to read while you unwind, the best brain candy books — but we haven't talked about spa treatments, and I'm curious what other people like. So readers, speak up!
For my $.02, it's all about the 60-minute Swedish massage. (Longer if I can swing it!)  Sometimes I like a hot stone massage; sometimes I like a deep tissue massage… but for the most part, I'm just a simple massage girl.
Here in NYC my husband and I love Graceful Spa in Chelsea (they just had a Groupon — I think it's still on), which is so not a bells and whistles kind of place (think more along the lines of "here's a tupperware bin to put your clothes in, go lie down behind that curtain") — but they have always delivered a solid massage and for a reasonable price.
(Surprisingly, some of the fancier places we've been to in the city have delivered far worse massages.)
In general, the best massage experiences I've ever had were a combination of a peaceful, luxurious environment and a truly kickass massage — my top three would be the massages I got at the Mii Amo resort in Sedona, AZ (a friend threw her 30th birthday party here — this was my first ever experience with massages!), Canyon Ranch in Las Vegas (a girls weekend a few years ago), and, randomly, at The Biltmore Hotel in Miami with my husband (truly: so wonderful — we were there in the off season for a friend's engagement party and got a sick deal on the hotel). I also, of course, love a good blowout, but I usually just go to the cheapest place near me, so I don't normally think of it as a spa experience.
My experience with other spa treatments is fairly limited. I tried a facial once at a fancy spa in NYC and hated it. I've had a full-body scrub twice (in Sedona and at Canyon Ranch) and, were my budget unlimited, would work this into my regular routine, but I can also live without them.
Finally, I've had one "vision quest" type experience, at Sedona — my friend's mother treated us all to three treatments each, and for my third one I chose… well, I can't exactly remember which one I chose because it was just kind of "meh." Reiki maybe? Some of the other girls at the (very small) party chose "vibrational massages" (I think someone was lightly banging a gong near them while they lay on a table?) and had these insane emotional experiences, like randomly bursting out sobbing. I suppose mani/pedis count as spa treatments too — I enjoy them, but would generally rather spend my time and money elsewhere.
Update: I just realized I forgot about acupuncture — I went twice while pregnant and trying to get my overdue son out of my belly, and thought it was restful but not remarkable. (I'm really squeamish around needles normally, too — I have to look away when I'm getting my blood drawn — but I didn't have any issues with the acupuncture needles.) I've heard amazing things from friends who did acupuncture for fertility issues, though.
Readers, which are your favorite spa treatments? What is your favorite way to unwind, given an unlimited budget? Which are your favorite spots in your city?
Psst: some of our favorite home massage products include this reader-recommended back massager, this shoulder massager (similar), and this mini massage gun. Along similar lines, this $6 scalp massager is soothing, and these toe stretchers are actually better than most foot massage products.
This post contains affiliate links and Corporette® may earn commissions for purchases made through links in this post. For more details see here. Thank you so much for your support!
Stock photo update via Stencil. Originally pictured: Foundry Hot Stone Massage, originally uploaded to Flickr by FoundryParkInn.)