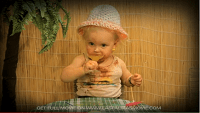 Update: We still stand by this roundup of laughter, anxiety, and the overachieving chick — you may want to check out our more recent discussion (with recommendations!) on how to deal with anxiety through laughter.
I've been thinking lately about how important laughter is — specifically, how important it is to have an honest-to-god giggle fest or a nice deep belly laugh. For my $.02, I feel like it helps me manage anxiety and stress, and for some reason it puts things in perspective. Even if I'm having a terrible, horrible, no good, very bad day, a bit of laughter reminds me that it isn't quite so bad.
At various points in my life I've tried to ensure that I get at least one good chuckle a day — in college it was watching a Simpson reruns; in later years it was reading TiVoing The Daily Show, or reading The Onion or Go Fug Yourself. It's a habit that has fallen by the wayside as life got busier, but that I'd like to pick up again.
So, ladies, which are your favorite spots for a good chuckle or pick-me-up? I swear, I am keeping the Banana Slicer bookmarked for my next rainy day — and I hate to admit it but this video ("Baby trashes bar in Las Palmas", embed below) makes me die laughing every time.
A few other favorites I've linked to in the past:
– Mean Kitty
– Target Women: Yogurt
What are some of the funniest things that you've seen on YouTube, or read on the Internet? Where do you go for a good dose of laughter?