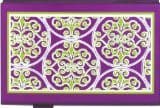 Reader H wonders whether students should get business cards…
A couple weeks ago, you did a post about stationery and handwritten notes. In the run-up to OCI, I'm wondering if I should order business cards. Many law schools offer student business cards but I personally think the branding is sort of tacky and would much rather have a plain card with my name, email, and phone number. Should students going into interview season suck it up and buy their schools' cards? Or is there a way to have a simple, stylish card of one's own (without seeming pretentious)? I guess this is an issue many people will have in the corporate world, too, but at least once you have a job, someone else is paying for your cards… as long as I'm paying for my own cards, I want to be able to design them well, but I'm wondering what's appropriate.
I think I've mentioned my point of view here and there on the blog before, but I don't think I've ever been really clear about it:
I think everybody should have business cards.
Ok, not
small children
, but everyone else — students! people out of work! people seeking new work!
stay at home moms
! In short: business cards for everybody.
(Pictured: Wellspring Double Flip Case, Audrey Medallion (2420)
, available at Amazon for $5.91. Check out our previous guide to business card cases!)
This actually isn't such a new idea — back in the olden days, well-bred single women were supposed to have "calling cards" that had their name and address on it, as well as the time of day (usually a 2-hour window or so) in which they accepted gentlemen callers. I don't remember where exactly I read about this, but when I was single I remember thinking that this was a much better idea than handing out my business card to the occasional cute stranger. So I got my first "personal" set of business cards from Vista Print — they just had my first name, my phone number, and an email address that I used for dating. Now, I'll be the first to admit that this was mildly insane: I probably needn't have worried quite so much about stalkers and spammers — and it was a little bit weird to give out a card that didn't have my last name. (I called them my "playa" cards, and actually was so embarrassed by them that I did in fact give my future husband my business card when we first met.)  Still, I had such a great time being freed from the law firm business card (and realized that the prices were so low) that I've since gotten lots, and lots, of other personal business cards, including
when I was actively hunting for a new job — these had my full name, my phone number, and the email address that's on my resume. If I'd been smart about it I'd have set up a professional website for myself and my CV and added that URL as well, or just given the URL to my LinkedIn page.
really nice Moo cards for guests at my wedding (Moo cards are great quality, but very photo-driven — so they were a perfect way to use some of our "engagement shots.")  In the pack we bought we used 10 different images on the front, and on the back we listed the photo-sharing site that we hoped all of our wedding guests would use to share their personal pictures from the wedding with us.
when we moved into a new apartment — we moved in December 2009, so we just tucked these cards into our holiday cards and, subsequently, gave them to people we hadn't seen in a while. It just seemed like the cheapest and easiest way to distribute our new address.
for Corporette — I've actually ordered several packs of business cards for Corporette, not because I've gone through them so rapidly but more because I couldn't decide what name I was going to use for the blog  until I actually came out back in April 2010 (Nickname or Full Name? Maiden Name Last Name? Just last name? Just maiden name?) or what I wanted to call myself (my current cards just say "Kat Griffin, Publisher.")  I've used a few different companies, but have found that I really like the cards from one of the big box office stores — I'm trying to find my latest receipt and will update when I figure out which one. The colors are nice, the ink is raised, the cards are on good stock — and the prices were really competitive. (I actually have a bit of paper guilt that I have so many unused business cards — let's just say my necklaces are really, really organized.)
To answer Reader H's question — I think you can have a bit of fun with design, but keep in mind that you're representing yourself.
A plain design might show that you're no-nonsense, functional, not fussy. A unique design might show that you're creative, stylish, not content with the boring white card. I think either of these two options are great — they represent who you are. I think you want to be very careful about choosing a card using stock images (a tiny flower! or heart! or wavy lines that are slightly reminiscent of the 80s!) because it may convey things about you that you don't intend. Similarly, one person I know has a card that has a caricature of herself on it, looking slightly tarted up and comical — which would be great if she were a comedienne. (Unfortunately, she isn't.)  If you're not overly creative but don't want a plain design, you might want to just design a simple monogram for your card. Some places to check them out:  Vista Print, Fine Stationery, Office Max, Staples, and other "big box" paper stores. I usually think of Moo Cards being used by artists or graphic designers (although I know one blogger who has them), but if your personal hobby is photography (or travel, or photographing your travels) using some of your own images for the photos could be a fun but classy way to use cards with a bit of design on them.
Readers, have you ordered your own business cards? Where have you had great experiences?
How much design is too much design for an "I'm looking for a job" card?