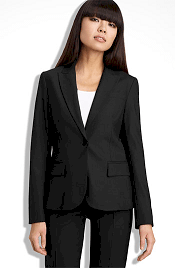 2018 Update: We still stand by this big NO on the question of "can you mix different black fabrics to create a suit," but you may also want to check out our most recent discussion of how to wear a black dress with a non-matching blazer.
Can you mix different black fabrics to form a suit? Reader E wonders…
Hi! I searched your archives but couldn't find anything addressing my question, so here goes: I have two skirts and a pair of pants, all from different companies and of different materials (one's a lightweight wool, another's a cotton/viscose/spandex mix, and the last's made of polyester/viscose/spandex). All are black, yet their shades don't match. I need to purchase a basic black blazer to make a suit for interviews (and hopefully my first job). If I get a blazer that will match at least one of the bottoms, can I wear it with the other two, or is that a office faux pas? Will other people notice, especially if I won't be working in a conservative field? I don't have the money to get several pieces in the same fabric. Please help.
Nooooooooooooooooooooooooooooooooooooooooooooooooooooooooooooooooooooooooooo!
Maybe I just haven't seen this done well. But I think Reader E is wasting money to try to mix different fabrics to "create" a suit — and yes, I do think other people will notice. Some thoughts, off the top of my head:
a) it is incredibly difficult to find the same fabric/weave/color, even if you're talking about something like black seasonless wool. Some blacks have more reds, some have more greens.. some wools are shinier, some are softer, some are blended…
b) even if you CAN find the same fabric, how you care for your items affects the cloth — if you've drycleaned or washed one piece 15 times and the other only once, they will look different.
This is one of the reasons why I always recommend buying as many suiting separates as possible when you start creating your working wardrobe, even if you think you don't need "a suit," and then trying to launder all of those pieces on the same schedule. Odds are you need a pair of black trousers and a black pencil skirt — why not just get the black suit jacket at the same time? We've talked about some of the least expensive suiting options before — most of the time you can even get three or four separates for under $200.
That said, Reader E may not necessarily need a suit if she isn't interviewing in a conservative field. For my $.02, the better option for her budget and purposes would be to get a blazer that is obviously a separate, either because it's in a different color or a totally different texture from her pants or skirt. That way she can look pulled together but not as if she's wearing "a suit," and she'll be able to wear it with the rest of her wardrobe (including the three different colors of black that she already owns).
Readers, what are you thoughts — can you mix different black fabrics to create a suit? Have you ever "created" a suit from pieces bought at different times (or different stores)? Do you think that all interviews require a suit, or can Reader E get away with professional blazer-as-separate look?