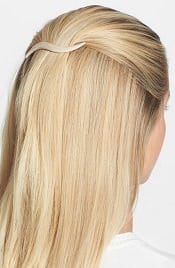 What's the best way to style your long hair for a job interview if you're a woman in your early 20s? Could wearing it down make you look too young? Reader D wonders:
How should a 20-year-old style her long, straight hair for the interview process for a management consulting job? Is wearing it down and straight too young/collegiate? Is styling it with a curling iron too beauty-pageant/date-y? Just how conservative is the corporate culture of the big three consulting firms? Must hair be pulled back? Interview wardrobe all taken care of, and nails are neat and well-groomed, but what about long hair?
We've frequently discussed workplace hair, from whether long hair makes you look young, to whether ponytails at the office are acceptable, to what easy, maintainable hair looks like, to work-appropriate up-dos. We've also talked about what your hair says about you at work.
For this post I was going to find a bunch of YouTube tutorials and pictures of women with interview-appropriate updos, half-updos, and long hair. But… here's the thing: so many of those look totally pageant-y, and on a young woman it's going to look even more like you're playing dress up. So here's my answer:  for an interview, your hair should be neat, recently trimmed, and not something you play with. Ultimately, the hairstyle should be forgettable. I mean that in two ways: first, it should be forgettable for you —  once you do your hair and leave your house, you should be able to forget your hair and focus 100% on the interview(s). No touching, no smoothing, no combing — no thoughts of "ow, these bobbypins are sucking my will to live and when.can.I.get.them.out.please.God.is.it.now." (Ahem. Personally I hate bobbypins.) Secondly, though, your hair should really be forgettable for your interviewer as well, because you want them to notice your resume and your qualifications and your smarts — not your hair. [Read more…]