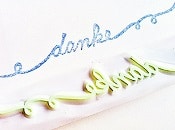 2017 Update: We still stand by this advice on how to respond to a good bonus, but you may also want to check out all of our posts on holiday business etiquette.
How do you respond to a generous year-end bonus — after all, yippee is out. So how do you professionally respond to a good bonus? Here's Reader C's question:
I am a young lawyer, and have worked at my current firm for 1.5 years. This year, I got a generous bonus. I'd like to know what the etiquette is for responding to the bonus. Is a thank you note for the 5 partners appropriate? an in person thank you? or nothing? The envelope the check is in says "Merry Christmas -The Partners". It is a small firm (10 lawyers, 5 partners) and I have a good relationship with the partners but would feel a bit awkward going into their offices and closing the door, just to say thank you. What about a small gift from the senior partner and his wife, (think chocolate)?

I looked in the archives for an answer to my question, but wasn't able to find anything on point and would really like to hear any tips on this!
You and me both! I still remember the big BigLaw bonuses before the recession, and I will always remember getting my biggest bonus (back in January 2008).  We all knew the number before our individual reviews — bonuses were lockstep with class year, and a memo had been circulated to say my firm was matching the going market rates.  Still, when my reviewer said, in a very cursory manner, "Your bonus is $80,000 this year," and I tried to graciously say "thank you," it was followed by an awkward, cringe-worthy pause from both of us.  It just felt SO little-girl/feminine and not at all what a Captain of Industry would say. I imagined men saying something like, "Well yes, I earned it!" or "Wonderful, I can make the next payment on the yacht!" or perhaps, "Bully, let's all go play golf!" But not "thank you." [Read more…]