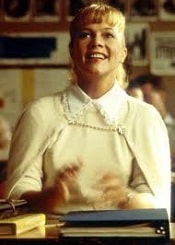 How do YOU button your cardigans? I was surprised that I had such a strong opinion when I saw reader S's email:
I love regular crewneck cardigans and have them in several colors and brands, but I'm always debating whether I should be buttoning up just the 2nd and third buttons, only the top one, or everything but the top two buttons. Is there a look that looks more professional? Is there a style that's most flattering to certain body types?
Interesting. We've talked about the six cardigans everyone should own, but we haven't actually talked about how to button them. Maybe I'm alone here, but I HATE the top-button-only look for the office. It reminds me of secretaries and housewives from the 1950s (kind of like the picture above, from Peggy Sue Got Married), even when Michelle Obama does it. Imogen over at Inside Out Style notes that the top-buttoned look flatters smaller busts, which I suppose I can see — but then I would just suggest that almost all of the buttons should be buttoned then, not just the top few. (I always leave the bottom button unbuttoned, so I say "almost all"). For my $.02, when I've buttoned my cardigans (which is probably only about 40% of the time) I've always buttoned my cardigans like this:
2020 Update: These are some of the best sweater jackets for the office or working from home: gray / gray / green / navy with pockets / cropped navy


The 2 or 3 buttons closest to my belly button to emphasize my waist, possibly adding a belt — usually with a full blouse beneath
The 5 or 6 buttons in the middle (which is like 75% of the buttons), worn with a contrasting tank top beneath that is part of the look but usually not acceptable on its own — top few buttons undone, bottom few buttons undone so it lays nicely
Worn as a sweater that happens to be a cardigan, with all of the buttons but the bottom one buttoned. I'm usually wearing a hidden camisole or t-shirt beneath it (in case of gaping and also to help stretch out laundering), and I leave the button one unbuttoned to help it lay more nicely. This can be a particularly nice look beneath a blazer.
Readers, how do you button your cardigans? Does a certain buttoning style read "work" to you (or weekend)?