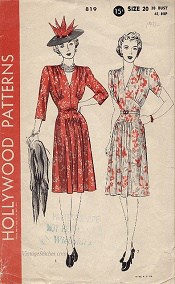 Are skirts and dresses unprofessional? What if you have a boss who has a firm opinion, one way or the other? What if you have a boss who forbids YOU from wearing dresses and skirts, when other women in the office can and do? Reader A wonders…
I recently started a new job in a creative industry, and our offices are officially business casual but usually just regular casual. My boss hates that I wear dresses and skirts. She told me that looking feminine in the workplace is bad for careers and she only wants me to wear jeans or khakis if she's in the office and I can only wear skirts when she travels. I've abided by it for a couple months since she was really persistent about it, even though other women in the office wear skirts. I'm confident that my skirts are not inappropriate length wise, they're standard work skirts from Macy's and Lane Bryant. Nothing ruffly or lacy either.

Anyway, my manager is leaving the company, but now I feel insecure about my clothing. Is it a bad move to wear skirts and dresses several times per week?
Wow. Honestly, your former manager sounds super annoying — particularly given that other women in the office wear skirts! I can only assume it's a personal problem with you (something about your style irks her) or she is being sizeist, whether consciously or unconsciously. (The other possibility I thought of after Googling Reader A's email address: The manager felt threatened professionally by Reader A, who already has an established, successful career — and wanted Reader A to look less managerial.)
Whatever the issue: I'm sorry you had to deal with it, and I'm glad the manager is on her way out. We've talked before about when feminine clothes are unprofessional, as well as how to look professional in a business casual environment where the guys are in jeans and hoodies, but not all at once. So let's discuss.
Know your office. You say other women in the office wear skirts — how are yours different, if at all? Are you wearing them with much higher heels that you wear with pants? Are the women who wear them in different roles than you are (for example, much more senior or much more junior/administrative)? Reading office culture — and fitting in — is an important part of your job. You don't have to give up your entire personal style, but you do have to learn when to play it safe — years ago we had a successful goth lawyer guest post on this very topic; we also recently discussed how clothes are only "empowering" if they actually help you get power. Without seeing your office it's hard for me to make suggestions, but when I hear "creative business casual" I think of a shirtdress with flat boots, for example, or a sheath dress with a jean jacket and a scarf instead of a cardigan. We've talked about how to transition a conservative wardrobe to a casual office before.
A feminine style is one thing; being in costume is another. This doesn't sound like it's an issue with Reader A, but I'll mention it briefly. If you tend toward a more girly style — A-line skirts, high heels, full makeup — you may be crossing the line from "dressed up" to "in costume." Particularly be wary of more vintage styles for the office.
Start slowly. Since you've been abiding by your manager's weird "rules," the office may perceive this as a style change — so start slowly. Wear one dress a week, not all dresses. See how people react, what comments you get. On the days that you aren't wearing skirts or dresses, dress up your pants outfits as well — wear a blazer with jeans, or a feminine cardigan with khakis. (Some of our advice on dressing for a promotion may help bridge the gap between your jeans wardrobe and your dress/skirt wardrobe.) If you have a favorite pair of shoes you wear with your skirts or dresses, wear them with your pants and see how it goes.
Get an honest second opinion. If after a few times of wearing a dress you still feel uncomfortable, talk to your HR department or a more senior colleague you trust to give you an honest opinion. They know your former manager, your office, and you, so they may be able to give you better insight here.
What are your thoughts, readers? How would you handle this (now, as well as with that manager) if you were in Reader A's shoes? Do you think dresses and skirts can be unprofessional?
(Pictured: Hollywood 819, originally uploaded to Flickr by Jessica Hartman Jaeger.)
—————
N.B. These substantive posts are intended to be a source of community comment on a particular topic, which readers can browse through without having to sift out a lot of unrelated comments. And so, although of course we highly value all comments by our readers, we're going to ask you to please keep your comments on topic; threadjacks will be deleted at our sole discretion and convenience. Thank you for your understanding!