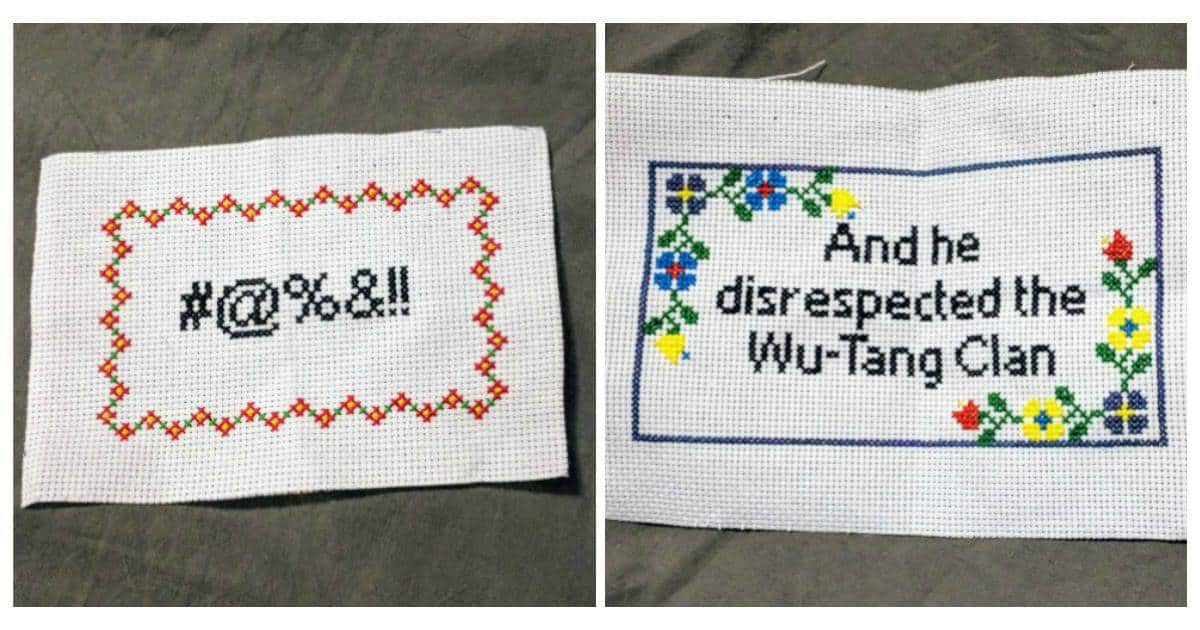 We haven't had a Hobby Wednesday in a while — today, Rebecca Berfanger is sharing with us her love of cross stitch for stress relief! (Check out other discussions in our series, including how to learn a new language, adult coloring books, and more!) Thank you, Rebecca! – Kat
Do you have crafts and hobbies for stress relief that don't require leaving the house, such as knitting, crocheting, coloring books for adults, or cross stitch? Or maybe you do leave the house — to nerd out with other people about knitting needles or a certain brand of yarn or different colors of floss you use for cross stitch.
In addition to providing a creative outlet and stress relief, many crafts and hobbies are fairly easy to learn (hello, YouTube), and you may even have a friend who's been posting her (or his) work on Instagram who can give you advice. Crafting can be relatively inexpensive and can even save money (homemade holiday gifts, anyone?), and it pairs well with a glass of wine or a Netflix binge — just don't accidentally spill anything on your creations.
(Pictured: "Wu-Tang is for the children" pattern, $4 from basicstitches design / "#@%&!!" kit, $14 from Subversive Cross Stitch / "And he disrespected the Wu-Tang Clan" pattern (context), $5 from SchroederSheWrote)
This post contains affiliate links and Corporette® may earn commissions for purchases made through links in this post. For more details see here. Thank you so much for your support!
Here's how I got started with cross stitch — and here are a few helpful resources if you want to try it out:
While I've tried to learn knitting as a form of stress relief, and I used to be fairly adept at crochet when I was a kid (including an unfortunate belt that I thought would start a new trend in middle school … but didn't), I just couldn't get into making scarves and hats. However, I do love the accessories my friends can make, and I have greatly appreciated the work that went into every homemade knitted item I've received as a gift. Maybe someday I'll give it another shot.
For me, the crafting hobby of choice came about after noticing a few friends' cross stitch masterpieces on Facebook. Those designs started me down the rabbit hole of various non-traditional patterns, including a few that incorporate pop culture references to everything from heavy metal to Keyboard Cat to the Wu-Tang Clan.
(If you were wondering, according to the Wu-Tang Clan name generator, my name is Zexy Bandit). I even bought a couple kits from a handmade goods store, but I never made the time to do them.
Last summer, a friend hosted a group of women to teach us about cross stitch in a fun, low-stress environment, and as something to do when we were feeling stabby. She provided the kits — patterns, floss (thread), aida (fabric), and needles, as well as instructions and words of encouragement.
She also showed off some of the more complicated designs she had done (along with some other patterns for inspiration) and shared the history of cross stitch. A few of us have met a few times at a coffee shop to continue our crafting.
Since that night, I've finished three patterns — including two that I bought on Etsy (this one and this one). Plus, I recently received a copy of Subversive Cross Stitch by Julie Jackson.
While not new to the crafting scene — Jackson brought cross stitching to a new level with the first edition of her book in 2006 — it is something I've been wanting to check out for a long time. I recently discovered, and promptly bought, her updated 2016 edition, making me one of the countless crafters she has inspired to make what amount to memes made of floss and fabric. Who wouldn't want a framed "BITE ME" surrounded by ornate snowflakes and squiggly lines?
Jackson's book and website also include different fonts, a blank grid, and several different borders that lend themselves to just about any movie phrase, song lyric, inside joke, headline — you get the idea.
She regularly updates her site to include new patterns, including "Nevertheless She Persisted" and "Reclaiming My Time," plus clever cuff patterns and holiday themes. Between Jackson's patterns and numerous other options for kits and patterns available on Etsy, even if you prefer the more traditional patterns, the possibilities are endless.
Here are some easy kits and books to get you started on cross stitch for stress relief…

So let us know, readers: Is there a craft or hobby that you do as a form of stress relief? If you cross stitch, do you prefer 11-count or 14-count aida? Do you have several go-to gauge sizes for crochet hooks? When it comes to knitting, do you know the difference between a skein and a ball of yarn? Is there a pattern you've been dying to try, a project you haven't quite finished yet, or a crafting blog you'd recommend?