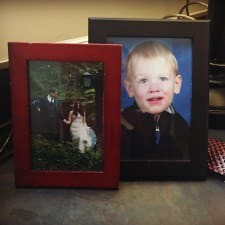 Here's an office decor question we haven't talked about in years: when are family pictures at the office "too much"? Weddings, babies, parents, friends — are they ever appropriate?  Here's a question from Reader E:
I was wondering if you or your readers have any thoughts about office decorations. I am a new mom and I recently brought a framed 5 x 7 picture of my baby into my office. I like having a picture to decorate my office, but I wonder if this makes me seem less professional. I have heard the advice that working moms should not talk about their children too much.
Over at CorporetteMoms we've talked about when to talk about your kid at the office, but I think using family pictures as office decor is a different issue.  IMHO, the quick answer is yes: pictures of your loved ones are fine, with the caveats that the pictures be framed if they're on display (not just taped to your monitor, cabinet, or drawer), tastefully sized (5×7 is fine — gallery-size canvas prints, maybe not so fine) and that in the picture you aren't wearing or doing anything you're going to regret colleagues seeing.  I also am a fan of digital pictures, either as a slideshow for your monitor or a desktop background (more on this below).  That said, though, here are some thoughts more in depth:
Friend pictures. In my very first job I worked with a fellow 22-year-old who kept a picture taped to her cabinet of her college friends/sorority sisters at some outdoor event, possibly in Europe — everyone was sweaty and in tank tops and looking fairly disheveled; someone was maybe even holding up a glass of beer or something.  I'm sure it brought back great memories to her (and I'm sure I had similar photos at the time!)… but if I were advising either of us today I'd recommend against it. Look for pictures with fully-dressed friends (or at least with some visible landmark or occasion), without alcohol in the mix — and frame the picture.
Parents' pictures.  In my first law office, while I was still single, I had a few pictures of my parents as young'uns, with a baby/toddler Kat.  I thought they were OK because they were framed, and hey, they were facing me (away from the visitor), but enough people asked me if I had a child that obviously people noticed.  I wouldn't recommend this.  Looking back, I think it highlighted my youth (and, let's face it, my "I'm a kid!" mentality), and it confused people because they thought it was my child (I look a lot like my mother).  So if you're going to do it, do a recent family photo where you at least look like an adult.
Wedding pictures. When we first talked about making your office decor more personal on the blog, I was opposed to having wedding pictures in your office. At the time, I was planning a small, intimate wedding and had chosen my strapless lace wedding dress because it felt romantic and pretty, which, I reasoned, were OK things to show the 60 people who came to the wedding, but not the slew of colleagues and clients who came to my office.  Then I swung the other way and went a little wedding-crazy — I had a calendar! and a picture! and a mousepad!  So here's my current thinking: if you're comfortable with your grandparents seeing you in your dress (which presumably you are), having one or two framed pictures in your office is totally acceptable.  (But: rethink the gallery canvas prints.)
Baby pictures.  I love my babies, and I particularly love pictures of my babies.  Like everything else, I think this is a matter of degree — one framed picture of each child is fine.  15 inkjet printed pictures taped all of your monitor are, well, a different matter.  But pictures on your monitor bring us to another issue:
Digital pictures. We have a digital picture frame that holds approximately 3000 photos or something insane (16 GB, possibly?) — if I were to have one in my office I'd want to make 110% sure that each and every photo that appeared in that frame passed muster.  (Let's just say I was… surprised… when pictures of me half-topless and holding an ick-covered, just-born Harry, flashed across the screen when friends were over recently.)  Even better: if your monitor faces you (and goes to sleep when you're not around), just use your monitor as a slideshow, or for a desktop background.  (I just upgraded to Windows 10, but I think it was available in older options — you can choose a "slideshow" option for your desktop. I put about 20 of my favorites in a special folder to use for the background slideshow, and resized them all to be no wider than 500 pixels, so my screen is MOSTLY black with a smallish centered picture on it. Timing wise, I get a new picture every day.)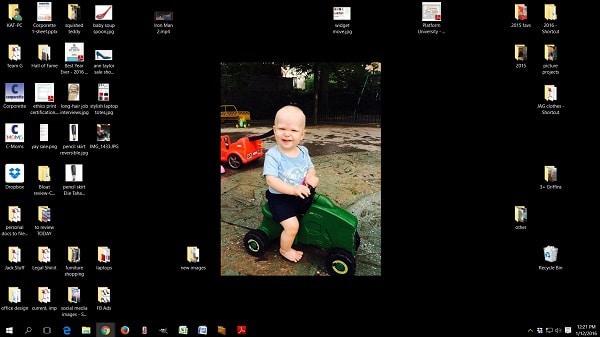 Readers, what are your thoughts on personal pictures as office decor? Are there any caveats, or do you think anything goes?