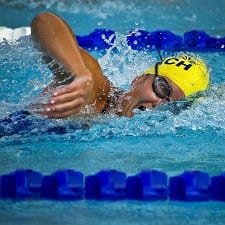 2018 Update: We still think this is a great discussion about finding time to exercise, but you may also want to check out some of our other more recent posts on exercise and busy women, including 7 tips to help you hire a personal trainer. 
A regular exercise regimen and an intense job are not easy things to reconcile — so how do you fit exercise into a busy day? We've talked about mid-day workouts, some of my favorite exercise DVDs, and generally talked about how to fit exercise into a busy day, but not in a while — so I'm thrilled to welcome today's guest poster, the blogger behind Sweet Hot Justice, who is doing the impossible and balancing a busy job as in-house counsel with a pretty awesome exercise routine. I've known of her since we both started anonymous blogs Way Back in '08 — but we only just recently met in real life, and she's every bit as awesome as her hilarious writing would make you think she might be. Please welcome Maria de Cesare of Sweet Hot Justice, giving her own excellent pointers for finding time to exercise when you have an intense job! – Kat.
I hate working out. Not "I hate working out" as in "Gyms aren't my thing but I cherish my daily 5-mile jog." No. I mean "I hate working out" as in "After working 60-hour weeks, I'd rather do almost any other thing in the universe, including sitting in a room and staring at my hands, than work out." Also… I'm not exactly what you'd call an athlete. I have a job that involves lots of aggressive sitting. I hate sweating. You'll never hear "Oh my god, Soul Cycle is the best thing on Sunday mornings!" come out of my mouth. You know what's the best thing on Sunday mornings? A three-hour champagne brunch followed by not going to Soul Cycle.
So, why in the world should you listen to me for tips about how to make fitness fit into your life? Well, because if I can make it happen, believe me, you can make it happen. A few years ago, after leaving a Big Law job and ignoring my personal fitness for years, my body just felt off. My back always hurt. My clothes didn't fit the way I wished they did. I just felt like a weak, disconnected mess.
But now, after stumbling through a few fits and starts and finally finding a fitness routine that works for me, I feel stronger and more in sync with my body than I ever have. And now, even when I'm tired and cranky and absolutely dreading the idea of schlepping to the gym, I know that I'll feel 100% better after I do — and that keeps me coming back.
So, I know that you don't have time to work out, I know that there are a million other things you'd rather do with your all-too-precious time and money — believe me, I'm right there with you. But, if you're looking to jump on the fitness rainbow, keep these general thoughts in mind when struggling with finding time to exercise with an intense job:
Find the F-I-T in Fitness. Fit is everything. There are roughly six billion fitness options available and you need to figure out which one fits not only your fitness needs, but also your schedule, budget, lifestyle, and most importantly, personality. Do you need to be barked at bootcamp-style, or do you prefer a more gentle, nurturing vibe? Is loud music and flashing lights your jam or is clean and sober your thing? Whatever your preference, spend some time making sure the culture of the venue is the right fit. Take a tour, interview the trainers, try a trial membership, or drop in on a class. Whatever your fitness destination, make sure you do some research before you spend your time and money — like any long-term relationship, if the fit isn't right, you're not going to stick around for the long haul.
Get the Most Bang For Your Buck. All workouts are not created equal. We don't have time to waste, and if you're going to take the trouble to show up to the gym in the first place, you want to make sure that you're maximizing your efforts. Will walking on a treadmill for 45 minutes once a week yield better results than couch-surfing for 45 minutes? Probably. But not a hell of a lot more. Minutes are precious. Use them wisely. Which brings us to:
Know Your Goals. Why, exactly, are you at the gym? Do you want to lose body fat, gain muscle, improve cardiovascular health, build up strength after an injury, maintain status quo? "Get hot, feel good" are good long-term overall goals, but bite-sized goals are easier to set — and meet — and the more goals you meet, the more motivated you'll be to keep setting new ones. Which now brings us to:
Bring On the Experts. Let's say you just found out you have a weird bone disease, or have been arrested for murder, or need Botox — are you going to go to the first storefront clinic that pops up in a Google search, or are you going to try to find top experts in the field? Gurrrl, this workout s**t can mess a body up if you don't know what you're doing. Look for gyms with experienced instructors and certified trainers — and not the kind of "certifications" that your stoner out-of-work actor friend can get in a weekend. And if regular sessions with a personal trainer aren't in your budget, at the very least splurge on a session or two so you can set a training program and make sure you're getting your form down correctly. After all, if you find yourself working hard with no tangible results, or worse, get yourself injured, you're not going to come back. No bueno.
Know Yourself. Does the idea of waking up before 7 and sweating for an hour before work sound like a fate worse than death? Can you hit the gym at lunch and head right back to work, or do you look — as I do — like a melted-wax bridge troll after working out and need a little more time to pull it together? If you're going to successfully integrate fitness into your life, you have to keep showing up. So, be realistic about your scheduling needs and pick a routine that you can stick to at least a few times a week.
Don't Sweat It. You've finally found a fitness routine that works for you. You've been nailing it and have noticed results. But suddenly, you have the work week from hell. Or get the flu. Or have four hot dates in a row after work. Sometimes life happens and you just have to skip a gym session or two…  or ten. Don't think of it as a failure or a derailment. Just accept it for what it is and jump back in as soon as you can.
Happy exercising, ladies! You'll be happier for it, trust me.
Current images via Stencil. Originally pictured (2014): swimming, originally uploaded to Flickr by Jim Bahn.
Readers, how do you fit exercise into a busy life? What tricks have you discovered over the years for jumping back in and recommitting? Which workouts have you found that fit your lifestyle — and what are your tips for hiring a personal trainer?