2020 Update: We still think this is a great discussion about how to hire a personal trainer, but you may also want to see our more recent discussions on exercise, including seven tips to help you hire a personal trainer and the best streaming workouts to do at home.
As warm weather approaches, people everywhere are rethinking their fitness routines. For some, that may even include hiring a personal trainer. But finding a good personal trainer can be a slightly difficult proposition: it's expensive, so you want your money's worth — but you also want to make sure that your limited time and energy is "spent" well at the gym. So let's talk about it.
(2020 updated images via Stencil. Originally pictured: study in annoying eddie II, originally uploaded to Flickr by hmmlargeart.)
My own experience with a trainer was less than stellar: It was January 2008, and I was gearing up for a trial with a very small trial team — so I knew a lot of late nights and early mornings were in my future. I went to my gym and requested a trainer, and took the first person they recommended who could meet my schedule. I think I wound up paying about $75 per session for 10 sessions. It was worth it, I figured, if I could still fit into my suits come trial time.
My trainer, a youngish man named F, was a nice enough guy. But throughout our 10 sessions, we floundered. Sometimes he would kick my @!#[email protected]#$ (oh, I still ache a bit from the one-legged walking lunges across the room). Other times, though — actually, a lot of the time — I felt like F was wasting my time, overestimating my coordination (no matter how long I tried, I was apparently incapable of hitting the little speedbag boxing thing with any regularity), and treading on my patience.
I left most of the sessions feeling like the 60 minutes spent at the session and the 15-20 minutes walking to/from the session would have been a lot better spent with one of my FIRM videos, going to a spin class, or doing a long run outside by myself. (I ultimately caught a truly nasty cold — right in the midst of trial, too, joy — and ate so little that I wound up fitting into my suits just fine.)
Psst: Looking for great workout shorts? See reader favorites and more in our recent roundup of the best women's shorts for summer…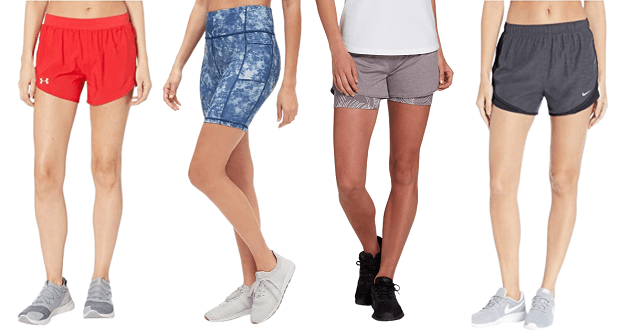 Under Armour / Gap / CALIA / Nike Dry Tempo
For those of you who've had success with personal trainers: how have you chosen a trainer? How have you communicated with him or her to ensure an amazing workout?