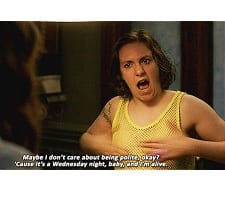 Update: We still stand by this advice for going-out clothes and young professionals, but you may also want to check out the great reader discussion on general going-out clothes after age 25. 
Once you get to grad school, can you stick with your "going out" style from college, or is it time to make some changes? Reader C wonders how to dress for a night out on the town when she's out with new friends from grad school…
I have a strange request/question. I've begun learning all about clothing for work, interviews, etc., and now know the difference between business casual and chic casual. My problem is that during my undergrad, "going out" almost certainly meant tight shirts, tight pants or leggings, and high heels, as well as blow-out hair and smokey eye makeup. Jackets were a never, and cleavage was a must.

I was recently invited to go out with from friends from my new school, and pretty much realized that I don't know how to dress like a grown woman when I'm doing something super casual with friends, like going out for a few beers or even out dancing. I still want to look the part in some ways (these are, after all, my future colleagues — I don't want to be remembered as "cleavage girl"), but still dress to have fun.

Please teach me to be a respectable adult, even while I'm supposed to be out having fun.
Great question, and I'm torn between a few thoughts. First: you're in school; if you're going out with friends it shouldn't matter too much. On the flip side, I think it can make an impact on how people remember you, and the bigger the dichotomy between your work or student persona and your "weekend persona," the more people will remember it.
I would also note at the start that if you're going out on a weeknight (and it's a schoolday or workday tomorrow), you probably don't need to change what you're wearing too much — similar to my general desk to dinner rules. Freshen up your makeup (maybe add a smoky eye OR a bright lip); consider changing into more festive shoes or a nicer blouse, or even adding a statement necklace — but keep it similar to what you wore that day.
But — if staring at your closet on a Friday night still fills you with angst, here are some thoughts:
Find out where you're going. If it's somewhere out and about, you can call the bar or restaurant and ask them what the dress code is, if you're unfamiliar. In NYC this can range wildly — ripped jeans to laid-back dresses to leather hot pants or some sexy-mama dress.
That said, unless you're going somewhere very fancy, it's hard to go wrong with jeans in a dark rinse and (if somewhere cold) the highest boots you can walk in. I'd add a v-neck top in a solid color on top of that — even do the "blank slate" white or black if you want to. Then, top it with layers that you feel good to you: a wrap, a moto jacket, a kimono (trendy!), a long cardigan — even a fitted blazer. Another option: a classic little black dress can be great if you're out with friends (IMHO, less great for a first date — too fancy — but that's me.)
Pick one feature to emphasize. If you have great legs, great — do a miniskirt on the weekend, or wear very tight jeans with rips. If you like your bust, put the girls on display a bit. If you like your belly, go for the crop-top trend. But don't feature more than one thing at a time. (And please avoid the fluorescent mesh tank top with nothing underneath.)
Know the local etiquette behind how walkable your outfit should be. In some cities, it's totally appropriate to wear heels you actually can't walk in — in other cities it's far more likely your new friends are going to be annoyed if you can't walk a block. (You can always bring City Slips or the like in your bag.) Another thing that can look really young: dressing totally inappropriately for the weather, such as bare legs with a miniskirt and tank top in January, with no coat.
Readers, what are your thoughts — what is the difference between college going-out dressing and grown-up going-out dressing? What did you wear on nights out with grad school or new work colleagues? (Do you remember any big gaffes, either of your own or someone else's?)
Psst: we've talked before about how to fit a social life into a busy calendar.