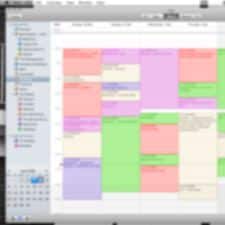 2016 Update: We still stand by this advice below about fitting a social calendar into a busy life, but do check out our latest discussion about ways to make time for friends when you work a lot. 
I don't think we've talked about this yet, and I'm curious what readers say. Your job is important, and a little bit of "me" time is necessary for everyone — but how do you fit a social life into your already-packed calendar? So let's look at the options.  (Pictured:  Busy schedule ;), originally uploaded to Flickr by lewro.)
I'll say at the outset that I'm an introvert, of which a few things flow which may be unique to introverts:
a) "me" time comes way before "social" time — typically mornings are the only time I can get any exercise, reading, or writing done, and I need that time to myself to recharge and be productive elsewhere.
b) I'm more of a one-on-one person than a "group date" person — I was always a bit jealous of Carrie's crew in Sex in the City, but it's just not who I am
Still, I love my friends and family, and I think it's important to stay updated in their lives. I remember laughing at a friend in college when she described "hierarchies" of friends, but she was on to something — as I've gotten more and more strapped for time I've had to make choices about who I keep in touch with and how often I see them. (Getting married also obviously shifted priorities — my husband is the person I strive to spend the most time with.) Personally, I'd rather see 3-6 people really regularly and be in their lives rather than see 50 people only sporadically, and so those 3-6 friends are the people I make really regular dates with, and I try to keep in regular touch by phone or e-mail with at least another ten friends who live farther away.  But all of this is easier said than done — HOW do you fit your friends into your schedule?
Weekends. Weekends can be a great time, but a) it's only 2 days out of 7, b) you may have a zillion chores and "me" time things to catch up on, and c) you may still be working for part of it. Personally, I'm a big fan of making dates for Saturday nights with friends, but I prefer to use the rest of the time for myself. I will admit that I'm a total weirdo and I hate "doing brunch" with friends — to me it just sucks up time that would better be spent reading, writing, exercising, doing chores (or, hey, sleeping in) — but for a lot of people the brunch date is a staple of a busy life.
After Work. This is the approach that works best for me. I find that I'm a total zombie when I get home from the office — and I always have been, whether I've gotten out of work at 6 pm or 10 pm. Reading, writing, and exercise — the primary things I do in "me" time — are next to impossible for me to accomplish in the hours after work. But I have found that I get a second wind and can really enjoy a night out with friends after work.  As a bonus, I can often multitask and do something with my friend that's  also important to me:  making full use of my city and checking out new restaurants, bars, and the occasional cultural thing like a show or a museum.  (And, as a second bonus, the hot restaurants or bars are often far less crowded on, say, a Tuesday night than they are a Saturday night.)   To me scheduling activities three or four nights after work is fine so long as I'm home in time for a bit of husband time and my regular bedtime.  While I occasionally have to cancel for work-related reasons, my friends understand.  (It was a different issue when I was trying to date, but, well, any guy who didn't forgive one cancellation wasn't a guy I really needed to date anyway.)
Weekday mornings. I'm also a fan of breakfast, at least on the occasional basis. One of my best friends and I used to meet regularly at a SoHo hotspot that was between our two jobs.   On the plus side, it made me feel a bit glamorous (we were often dining with people we recognized from the news) and it was cheaper than dining there at night — but on the downside, it usually meant skipping my morning workout and/or "me" time.
Weekday lunch. Lunches never quite work out for me unless the friend and I work in such close proximity that there is no travel time involved — I always feel rushed otherwise! I also find that I have problems transitioning Work Brain and Fun Brain — either I'm so wrapped up in the problems from the office that I never fully enjoy and connect with my friend, or else I have such a great time connecting with my friend that I have problems refocusing on the workday in front of me. On the flip side, I find that weekday lunch is a great time for networking — I'm still partly focused on my career and Work Brain, and I don't feel quite so guilty if the lunch hour stretches into ninety minutes or more.  (For the same reason, I can't quite make use of my lunchhour for "me" time — but I am super envious of those of you who can work out at lunch!)
Other times. As for friends who don't live in close proximity — one of my worst habits is that I am predisposed to take cabs everywhere. I try to make the best use of my time luxuriating in the back of a cab, though, and try to call friends or family to catch up, or even to just leave a voice message to try to get a date on the calendar for a phone or Skype chat.  Once I get something scheduled, I'll often try to multitask and do something mindless while talking to my friend — either go for a walk in the neighborhood, or do some chores around the house like sorting laundry, cleaning up the house, or more.
Readers, when is your preferred time for social engagements? How do you juggle a demanding job, "me" time, and your family and friends? For those of you with kids, how has it changed your social life?