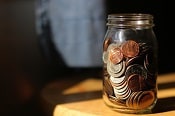 How does your background — like growing up poor — affect your life in Big Law or other conservative jobs? After all, Big Law (and other Big jobs) can be interesting places, full of strange traditions, big personalities, and a lot of assumptions — that everyone knows what to wear yachting or for a golf scramble, for example. Today, I'm happy to welcome back Ruth Moore*, a lawyer turned actress (who's currently a recurring character in a TV series) with some deep thoughts on how growing up poor affected her legal career. Ruth has guest posted before, with a Tales From the Wallet post about how to break free from golden handcuffs (and get used to paying tuition again). Welcome back, Ruth! – Kat.

This post came about because I was telling Kat about how I'd always been curious which of my Big Law colleagues had also grown up below the poverty line. I have this theory that there were certain habits and ways of thinking from growing up poor that stuck with me as a young adult, when I suddenly went up a couple of rungs on the socioeconomic ladder.
Some of those habits were sartorial. For example, even though I was earning a lot of money, I was still very cheap with myself, especially in the beginning. I distinctly remember buying a pair of jeans from H&M for $39.99 and thinking, "Wow, I'm buying forty-dollar jeans at full price, I really made it!" For work clothes, I splurged on two skirts and three shirts (deeply discounted) from a chain that represented, to me, the height of luxury: The United Colors of Benetton. Dry cleaning seemed too frivolous so I'd just wash them by hand. I wore my Aldo heels with the same pride with which my officemate wore her Louboutins. I didn't get a professional haircut until my fourth year as a lawyer, opting to trim it myself instead. It's kind of a miracle that no one reported me to "What Not to Wear." (Pictured: Money, originally uploaded to Flickr by loopoboy 2.0.)
To be fair, I had spent my entire life trying to save more, spend less. Frugality was so ingrained in me that it wasn't even a conscious decision, and in retrospect my decisions were often penny wise and pound foolish. I chose the cheapest health insurance program and opted out of dental care completely, and ended up incurring some very expensive uninsured dental work later on. I didn't have a gym membership for four years because the idea of paying to exercise was too overwhelming. I couldn't fathom the idea of lunch costing more than $5 and gamed my way around pay-by-the-pound delis by avoiding high-density foods. I rarely went to Starbucks, preferring bad, but free, office coffee. I stretched out a year's worth of disposable contact lenses into five, even though my eyesight was steadily getting worse.
Also, I didn't know how to talk to partners, who were mostly my parents' age. Who were these well-dressed grown-ups who spoke perfect English and got excited about golf and tennis? They seemed to me like characters from a movie — I'd seen the likes of them on the big screen, but in real life? Not so much. None of my parents' friends had worked in the corporate world. The only not-poor adults I knew as a kid were either sending my family charity packages and/or trying to get us to join their religion. As a result, even though I got along with my superiors well enough, it was hard to find some common ground, a sense of familiarity. Eventually, I got used to it and was able to be more relaxed around them, but I was still more comfortable and "at home" with my pro bono clients — struggling immigrants — than with my bosses.
Sometimes I wondered if growing up poor also affected my perception of self-worth at work. It's hard to shake the feeling that I have to do extra to "earn my keep." At job interviews with potential employers, I'd volunteer the fact that I was really good at pulling all-nighters. (Pro-tip: don't do that. It startles them, and not in a good way.) Once I was hired, I was eager to sacrifice my sleep or my weekends. When it came to billing, I had a tendency to round down my hours, as if I didn't think my time was worth my quote.
I was always shocked when another associate would stick up for themselves or exercise self-preservation skills. In contrast, I seemed to feel that I should always be suffering a little. That my default state should be one of discomfort, because I did not belong there.
My first week on the job, a concerned senior associate saw me sprinting up and down the office halls (in my Aldos, natch). "Why are you running? Is there an emergency?" he asked. There was no emergency. The partner had said "hurry" and I had taken it upon myself to interpret that to mean that I was not allowed to walk.
Anyway, all this to say: were you poor? How do you think it has or has not affected your habits and outlook in the workplace?
*Names have been changed to protect the innocent the working actress.
—————
* As always, this guest poster has been invited by Kat to post on a subject of interest to the community. We value having different and diverse voices here, and indeed part of the benefit of guest bloggers is broadening the dialog beyond Kat's own views. To that end, please note that opinions expressed by guest bloggers, like opinions expressed in comments, do not necessarily reflect the opinions of Kat, Katfry LLC, or any of our sponsors or other contributors.
N.B. PLEASE KEEP YOUR COMMENTS ON TOPIC; threadjacks will be deleted at our sole discretion and convenience. These substantive posts are intended to be a source of community comment on a particular topic, which readers can browse through without having to sift out a lot of unrelated comments. And so, although of course I highly value all comments by my readers, I'm going ask you to please respect some boundaries on substantive posts like this one. Thank you for your understanding!