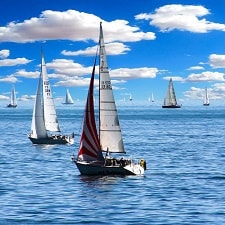 2018 Update: We still think this is a great discussion for what to wear to a sailing event for work in mid-May — but you may also want to check out our resources for summer associates.
Today's reader mail has us totally stumped… readers, please weigh in:
I now have my own professional wardrobe crisis – what does one wear to a corporate sailing event? It is in New England, in mid May so will still be chilly. And they have specifically mentioned we must have boat shoes – sneakers or sandals are forbidden. I'm a manager in my early 40's, what do I wear to look stylish and professional but appropriately sporty? Can I go with some nice golfwear? Help!
Why must companies choose these inevitably awkward events? This is the kind of event that seems destined to make the one person there who knows about sailing look like a genius, and everyone else either clumsy and uncoordinated (if you try to help and have no idea how) or lazy and entitled (if you try to just enjoy the sail). Le sigh. Thoreau once said to beware of all enterprises that required new clothes; we might amend that for companies that they should beware of all enterprises that require new shoes. The best advice we can offer you is to call the marina or port and find out what you should wear, exactly. 
Now that we've hedged, we'll offer a few observations. A bit of Googling led us to Nautical Boutique, which does sell ladies' boating shoes, such as a red crinkle patent. Zappos also sells Sperry shoes, such as the Sperry Top-Sider – Marina Moc 1-Eye (Black Patent) – Footwear, at right (on sale for $89). We're not entirely sure what about this makes it a "boating shoe," but we will note the similarity to Geox's very comfortable ballet flats, which you could certainly wear again; you may also want to check out some of the more stylish Crocs.
Apparently, the bottom layer of your outfit should not be cotton — but rather something that wicks moisture away from your body but is still breathable. Brands like Coolmax and Under Armour will be your friends here; if your golfing stuff is a similar fabric then you're set — otherwise, check out your local sporting goods store. We would look for a black t-shirt that fits well (not huge) and looks like something normal; we'd accessorize with two layers:  a cardigan and a stylish raincoat, as well as a brightly colored scarf (both to keep you warm and to look vaguely chic and French). In terms of your bottoms — L.L. Bean sells skirts and pants out of a fabric that wicks moisture and offers sun protection; this might be your best bet. (Check out the capris, for $44.50, or the skirts, for $39.50.)  If you can find it, opt for moisture-wicking undergarments for the day as well.
In terms of your hair, unless it's Annie Lenox short, expect to pull it back. We've been meaning to do a longer review, but The Clever Clip (no longer sold) is truly amazing — it held our long, thick hair up very comfortably during high winds in Miami a few weeks ago — a tight ponytail is another reliable way to get your hair out of your face. Be sure to bring SPF, sunglasses, and possibly a hat as well.
Ok, readers, please weigh in — what should our reader wear to a sailing event for work in mid-May?
Further reading:
Current images via Stencil. Originally pictured (2009): Sailing just off Manatee Public Beach, originally uploaded to Flickr by larry_ami.