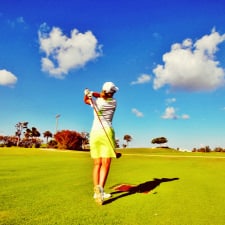 2017 Update: Links have been updated below on this post about golf clothing for a newbie; you can also check out our latest discussion of what to wear to a work-related golf event.
The summer golf outing thrown by your company or firm can be one of the trickiest for women professionals. Are they still great networking opportunities for young women? You betcha. Here's the request from someone desperate for golf clothing for a newbie:
Would love to hear suggestions on what a young female associate who has never stepped foot on a golf course should wear to a corporate or firm golf event.
Okay, here's an admission: we are totally wimps when it comes to golf. Thus, we had to call in a girlfriend who's a golfer, a fashionista, and an MBA to boot. At our friend's request, we asked for more information, and it turns out our intrepid reader is attending a golf scramble. (Our friend's initial response: She has no prior experience and she's in a scramble? This has humiliation written all over it.) Below, our friend's advice in blue. (Picture at left: Grand Cayman Golf, originally uploaded to Flickr by Fevi in Cayman.)
First, I'd recommend some time with a golf pro. Try calling the club or a driving range to find such a pro — group lessons are always cheaper, but a good price range to expect to pay is about $100/hour. Take a few lessons to get comfortable with the clubs, golf terminology and etiquette (very important). You will probably rent or borrow clubs; sharing with another player is frowned upon. If your lessons get you hooked on golf, by all means discuss investing in a set of your own with the pro, he will have some sound advice. In addition, a beginner set will not set you back too much. You'll also need to select some balls and tees (buy extra – they are easily lost).
Accessory Advice for a Golf Newbie
You will definitely need to buy a nicely fitting golf glove for your non-dominant hand. (Don't try to borrow — they get gross. Besides, they only cost $10-$20.) Personally, I prefer to wear gloves on both hands because I seldom play and 18 holes can take a surprising toll on one's hands. Wear comfortable socks. The low ones are very cute, but sometimes, I find they creep down into my shoe, which is distracting and ultimately painful. I prefer the ankle socks, even though they look a little funny. You are probably going to have to invest in some golf shoes. If you intend to become a regular player, by all means pick the top of the line. However, if this is a one time event, try to borrow a pair from a friend, or find a pair at an outlet store – I've had great luck with outlet golf shoes. (I've found some for $25.)
Attire: The Best Golf Clothing for a Newbie
As this is a professional event, be conservative. Short skirts are out of the question, and banned at many clubs. The thought of shorts in front of business colleagues also makes me a bit uncomfortable. The best solution is the amazing Capri pant. If you'd like to, consider shopping Nike golf or Polo golf for a suitable pair, otherwise pull a pair of your own out of the closet and roll with it.
Capris are perfect for golf, but longer khakis definitely work as well. Pockets are very important.) Consider pairing them up with a polo or button down shirt with a sweater vest if the weather is cool. Keep in mind as you pull your ensemble together that your apparel should allow for freedom of movement and maximum comfort. Depending on the club, you may wish to pack something more formal for dinner (often clubs require men to wear jackets), call ahead to be sure.
Rules & Etiquette: What To Know as a New Woman Golfer
Golf is a traditional game with an illustrious heritage. Make sure that you are familiar with the basic rules of the game prior to your lesson. Have the pro explain anything that you find confusing. Please do your research on course etiquette as well. The nuances are subtle, but as in life, etiquette can be your point of differentiation, irrespective of you golf skills. Always keep a cool head (no tantrums), win or lose graciously, and defer to those who are more knowledgeable or experienced. Never talk during another golfers' swing, and never call your boss a cheater.
One More Point: Don't Be a Slow and Chatty Golfer
The people who complain about "women golfers" are really complaining about the speed of play. This is NOT exclusive to women, there are plenty of slow chatty male golfers. Always try to keep things moving, and if the group behind you is moving quickly, let them play through.We asked our friend some follow-up questions:
Any reading suggestions for newbies who don't want private lessons? The Illustrated Golf Rules Dictionary is a great book, and pretty easy to understand. Women on Course is really fun as well. Are there any particular brands that women should look for? Nike makes great golf apparel, Polo is pretty good, Lilly Pulitzer is good as well.