We got an interesting e-mail last week from LPC of Privilege: A High Wasp Stops to Consider, offering to write a post giving advice to newbies from her much higher position. She's got some great advice in here!
Your first big job. Congratulations. By big, I mean in an institution of substance, as a lawyer, a banker, a corporate new hire. We are talking the world of salaries, hierarchies, protocol. And expectations about dress.
Of course this is not the only path. Some people work in design, in small businesses, in retail, at home. But our world has very particular requirements for what to wear. Hence Corporette. Hence this wardrobe advice to women at the beginning of their careers, from one towards the end of hers. I started out in 1981, fresh out of business school, at a large chemical company, and left the corporate world in 2009 as a vice-president for a software services startup in Silicon Valley.
Nice to meet you.
What to wear in an entry level job makes most of us nervous. It's new territory, after all. You are supposed to be a little unnerved. We read up. Ask friends. I remember worrying about the fullness of my first skirted suit, was it too much like a party dress? The thing is, there's no one answer. There is, however, a very simple process to follow to get it right.
The Strategic Principles
Your clothing sends signals about who you are. Into a very distinct culture. Which varies enormously from corporation to corporation. On purpose. CEOs believe that a strong culture gives them the power to effect change and accomplish goals. They are right. Support their efforts. Fight any battles for change in other arenas, from a position of strength. That's a lesson useful in areas beyond wardrobe.
Your clothing also talks to you. All day long, are you are comfortable or not, fitting in or not, wearing your favorite colors or fabrics or shapes? Or not. If, as they say, a brand is a promise on which you have to deliver reliably to your customers, your professional image is your brand, and it's got to be one you can deliver. Sustainably over the long, long term. You should feel good in your clothes. Anchored. In the context of your company, or firm culture, of course.
The Bullet Points
Men pick up different signals than women
Requirements for dress vary from function to function
Navy blue really is the corporate color of choice
Fabric – not too little, not too much
Keep your style rebellion subtle
The Speaker Notes
Men And Women
Men pick up different signals than women. No matter what you do, most likely most men will be assessing whether you are hot or not. They can't help themselves. Ensures continuity of our species, so let's just assume it's not a bad thing and let it go for now. As long as they behave professionally. Hot is off the table. Assess your clothing to make sure you are doing your part to keep it off the table. I'm not saying that you make yourself unattractive. But hot is off the table.
The women senior to you are hoping you succeed. Unless you want to take their job or steal their thunder. We worked really hard and put up with all kinds of stuff exactly so that you could have an easier time than we did translating hard work into success. This also means we really don't want you to wear clothes that get in your way. I have been asked, twice, to tell entry-level professional women that their clothes were inappropriate. Both cases involved underwear showing through white. Yeah. Don't do that.
We also understand that imitation is the sincerest form of flattery. You are more than welcome to tell us you like our shoes. Not in front of the guys, though. Provokes too many jokes. You are more than welcome to ask us what we think about possible clothing purchases. Assuming we've said more to you before than, "When will your manager be back?" You are more than welcome to start dressing like us. Just don't spend more money than we do, please. It makes us wonder if you really need this job.
You might wish what I'm saying was different. I might wish it was different. But wishing it was different and working with what is are two separate tracks. Both important. I'm talking the what is track here.
Varying Functional Requirements
Requirements vary from job function to job function. Each area has its uniform. Pretty much as you would expect, sales, polished, marketing, a little flashy, finance, a little boring, engineering, a little quirky, manufacturing, strong-toed shoes. Flippant, perhaps, but largely true.
Navy Blue
For some reason that anthropologists have yet to explain, the American corporate color of choice is navy. Gray is safe, black not dangerous, but navy is both friendly and authoritative. Think airplane pilot. Good airplane pilot. What is he or she wearing? Navy.
Fabric, Not Too Little, Not Too Much
You know already not to wear too little fabric. No cleavage. No exposed high upper arms. No too short skirts. No too tight sweaters. (You do know that, right?) But you should also shy away from too much fabric. Beware ruffles, full skirts, overly-wide legged pants. Why? I have no clue. Perhaps for the same reason that army uniforms are fitted. No danger of cloth catching a bayonet in the heat of battle. But trust me. For entry level, keep your clothing tailored but not tight.
Unleash Creativity Only On Jewelry, Shoes, Bags. At Least At First.
You can carry that bright green bag. Except maybe to a sales call. (Or to court. I'll let the lawyers weigh in there.) You can get creative with shoe ornaments, or two tones. You can tuck a peace sign necklace down that button down shirt. Or a Republican elephant. Rebellion takes different guises in different cultures.
With these principles in mind, here is your strategy.
Show up Day One with a few good basics. Do NOT buy out Ann Taylor in advance.
Observe your peers and your superiors carefully. What do they wear? For customer/court contact? Routine days in the office?
Add to your wardrobe in the first few months. Mostly what you see around you.
Find some small but tangible ways to brand your individuality. Otherwise known as style.
Must Have, Start Your Job Pieces, In The Best Fit And Fabric You Can Afford
(Note from Kat – we've kept Lisa's advice (in words) but added in our latest favorites for the items mentioned…)
This post contains affiliate links and Corporette® may earn commissions for purchases made through links in this post. For more details see here. Thank you so much for your support!
1. Navy pants suit.
Doesn't have to be dowdy. Stretch wool is always helpful.
2. Dark jacket(s) to wear with navy, gray, black and khaki trousers.
Some of our favorite blazers to wear as separates include: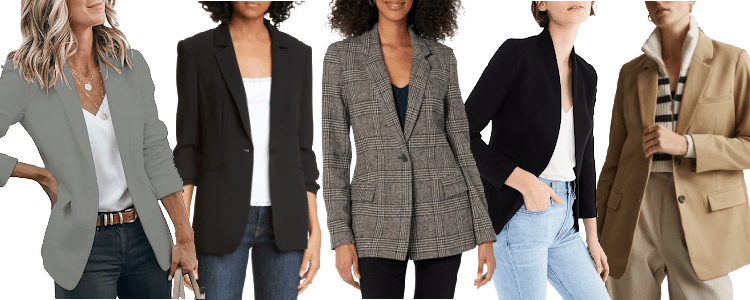 3. Cardigans
I've been informed by experts that J. Crew does a good job of mid-range cashmere. Oatmeal is a great neutral for many, especially when your skin tone says no to gray. Extra points for knowing that, on TV, we all look best in earth tones.
4. The button down
Confession. I hate button downs, they constrain my shoulders, and cause shirtfront gap anxiety. To say nothing about untucking every time I wave my arms to make a point. But I wear them whenever I visit the financial industry. When in Rome.

5. T-shirts
I've found Petit Bateau to offer the best quality, but Banana Republic, Old Navy, anything will look OK for a few months before pilling. Cotton in summer or any time in California. So comfortable that they will not contribute to any job-related tension. Cover with the cardigan or jacket if you've got to look extra formal.
Looking for the best women's T-shirts for layering at the office? As of 2023, these are some of our favorites — also check our posts on opaque white tees and the best plus-size tees for work!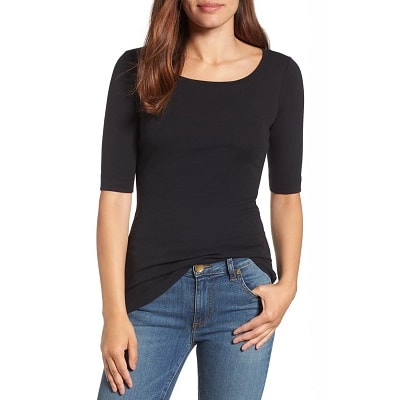 4. Cotton/cashmere blend for colder areas.
Or offices where they just can't figure out the thermostat. Drives me nuts.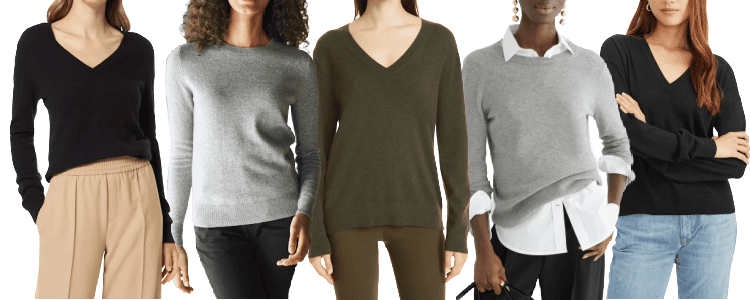 5. Flat or 2.5 inch heels, no toes, in colors that match your trousers.
Skirts really do look better with heels on the higher side. Stuart Weitzmans are comfortable, and good shoes can last a decade. Trust me.
These are some of our favorite comfortable low heels for work as of 2023… also check out CK Calvin Klein, Trotters, Sam Edelman, and Sarah Flynt!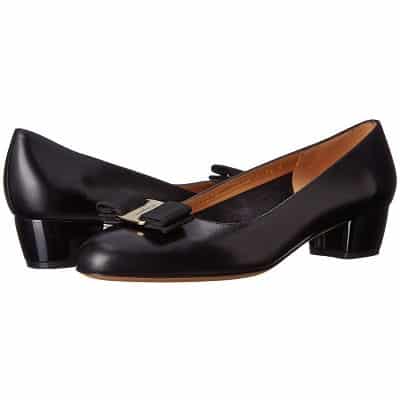 6. Invisible underwear
Surely we don't need a picture of underwear?
When to Show Personality and Flair at the Office
So, is that all you ever get to wear? Shades of white, black, earth and quasi-military tones? Are you doomed to a life without aubergine? No. Now you go to your new office. You look around. You observe. You travel a foreign land, and you watch. You add pieces in accordance with what you see. All the men wear those french blue shirts? Go get one, if only for the key sales meeting. The Director of Marketing sports a pair of red shoes? OK then.
Before I even began my corporate career, when I was still in business school, I happened to attend a law firm party for summer associates. One of the few, if not only women partners was there. I will never forget. She wore a pin on her shoulder. Silk violets. Large, I mean it was LARGE. I told her I loved it. She said that at this point in her career, she felt she could wear flowers if she please. Impunity. Once you close the deal, beat your numbers, win the cases.
The first time I stepped outside the standard corporate wardrobe was on my 30th birthday. I bought a dress. Sure, it was navy, had buttons, a belt. But this was 1986, and I was living dangerously in a dress. As was one of the top 3 salespeople in my region, I had the right. My most recent, and possibly my final act of rebellion? Of tongue-in-cheek personal style? A Hello Kitty diamond necklace. By the time I hit 50, I knew what I could and did contribute to an organization. And if I wanted to hang a silhouette of a kitty with a pink hair bow around my neck, I would. Except at a sales pitch to the New York Stock Exchange. Personal style statements need to be made to the right audience.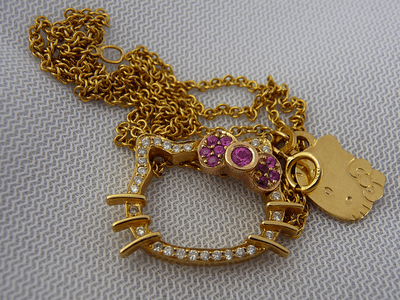 Other Resources
If you have a tolerant, perhaps high technical workplace, there's no better place to look for inspiration than Audi at Fashion For Nerds. This week she writes on adding pizazz to corporate wear. And I recommend that anyone interested in style that works for your particular shape go visit Imogen Lambert at Inside Out Style. This week she writes on how to add personal power in the workplace. Very apropos.
(Social media images via Stencil (slightly older woman leaning in to share secrets with a younger woman).