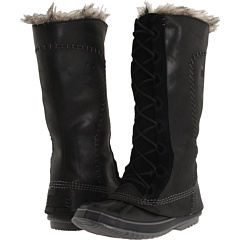 Something on your mind? Chat about it here.
So last year, I started noticing lots of New Yorkers and other fashion bloggers wearing these Sorel boots. I'll admit: coming from Ohio (where, at least when I lived there, people wore things like this more for practicality than fashion), I couldn't believe it… but I have to say that I'm now so taken with them that I'm lusting after this pair, Cate the Great. They're the epitome of ski resort chic — I wear them with a pair of leggings or skinny jeans (or even tights and shorter skirts) for running errands, meeting friends, or more. They're $200 at Zappos. Sorel – Cate The Great (Black/Pewter) – Footwear
P.S… Stay tuned; I'll try to round up some of the best sales I'm seeing/hearing about this weekend.  Happy Thanksgiving to all American readers!