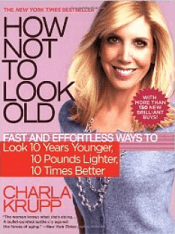 How do you change your makeup as you age? And which are the best makeup tutorials for professional women? Reader E wonders…
You've had all sorts of posts about makeup to wear when interviewing/commuting/etc. I'm wondering if you could offer some resources that step back even further. I'm in a career (and life!) transitional phase. Before now, I've been able to get away with not wearing makeup on a daily basis. Now I'm starting moving into management positions and my professional makeup needs are changing to something more daily. I'm also in my mid 30s and noticing odd things like "fine" lines and growing pores that my old makeup seems to accentuate rather than cover. Can you direct me to what you think are some good, basic tutorials that lay out how to do professional, daily makeup?
Great question. We've had an open thread about
how your skincare should change as you age
, but not specifically about makeup. You may want to check out Charla Krupp's book,
How Not to Look Old
(pictured above)– she has a ton of great "aging gracefully" beauty advice in there. Unfortunately, the main piece I remember is that she advised against mauve/rose lipstick, which is
my favorite lipstick color
, so personally I'm going to ignore that one entirely. A few other suggestions on how to change your makeup as you age:
– No sparkles.
Anywhere. Not only are they kind of inappropriate, they are somehow aging as well because they end up in all the wrong places — under your eyes, around your mouth, etc. I'm always amazed when I see Dior Addict recommended as a great lipstick for older women — it's chock full of sparkles.
– Foundation.
This may be just me, but personally, this is the first time in my life that I'm starting to realize that I look better with foundation than without it — it evens my skin tone, hides all the dark spots/freckles that have stuck with me since pregnancy, etc, etc. So far I'm just using my Bare Minerals (which has the added bonus of giving me a layer of sun protection), but I suppose a bigger foundation hunt is in order. (This sounds about as appealing to me as trying on jeans and bathing suits, though, so we'll see.)
– Consider primers and liners
to help corral makeup that wants to escape. Every woman is different, but you may find that your lipstick fades into fine lines around your mouth… you may also find that you need a primer to keep your eyeshadow where it is.
– Reassess your makeup once every five years (at least).
I always hate to see older women apply makeup the same way they've been doing it for 20+ years — they often end up with a makeup look that is out of vogue, such as heavy mascara and heavy liner on their bottom lashes. You never want to date yourself with your makeup.
– Recognize when colors have to change.
No kidding: I wore a lot of blue eye shadow in my early to mid 20s. It was a silvery, light blue (a liquid Almay shade, if I remember correctly) and I liked how it brightened my brown eyes. Nowadays, I'd feel like a moron if I wore blue eyeshadow — but I own a lot of silvery/gray/salt and pepper shadow, which kind of has the same effect but with a bit more sophistication.
I'm curious to hear what the readers say — how have you changed your makeup as you aged?
In terms of makeup tutorials, I'm also curious what readers say —
Pretty Shiny Sparkly
had a great one a few weeks ago, and this
Tyra Banks
one (while frenetic) is pretty good as well (I'm going to have to try the advice about "warming up" your concealer). I'm always a huge fan of The Beauty Department's
makeup tutorials
, including this interesting
flow chart
on the sequence to use when applying your daytime makeup.
Fashionista
also rounded up their top ten favorite beauty tutorials about a year ago (#10 is the daily makeup one).
Readers, which is your favorite daytime makeup tutorial on YouTube?
We are a participant in the Amazon Services LLC Associates Program, an affiliate advertising program designed to provide a means for us to earn fees by linking to Amazon.com and affiliated sites.