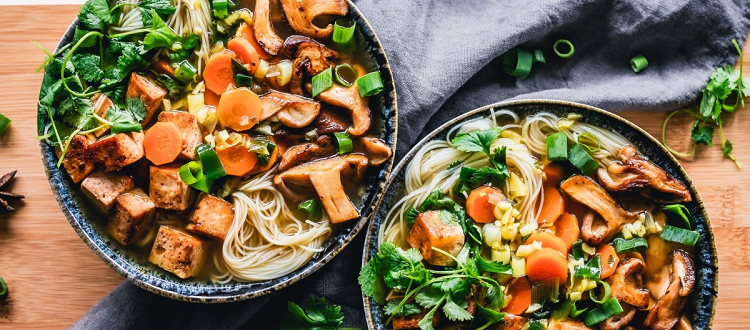 We recently had an open thread about our 2020 food resolutions, but today we thought we'd talk specifically about how to eat less meat — certainly a doable New Year's resolution. I've been a vegetarian (lacto-ovo) since middle school, and although I'm certainly not a clean-eating, perfectly-balanced-diet-achieving, jackfruit-loving vegetarian poster girl, I have some tips and products to share.
Are you trying to eat less meat for health, environmental, and/or ethical reasons? What is your advice for readers who are trying to do the same?
Here are my six easiest strategies to help you eat less meat:
Use meat substitutes in a meat-centered recipes you already like to make
When you cook your favorite pasta dishes, stir-fries, soups and stews, chili, etc., try switching out the animal products for veggie protein options, like beans, tofu, lentils, seitan, tempeh, jackfruit, "beef" crumbles, etc. Vegetarian Times has a helpful ingredient substitution guide, and The Kitchn even has a flow chart to help you choose a meat alternative.
These substitutes can either be on the whole foods side of things or "I want something meat-like" alternatives; my husband (who is decidedly not a vegetarian) often uses Gardein's Beefless Tips or Wegmans' Meatless Beef-Style Crumbles instead of beef in meals he makes.
How to eat less meat (and still feel full)
Readers just had a great threadjack on how to eat less meat and still feel full, so let's discuss. If you're worried about not feeling full after you eat a meatless meal, review the nutrition stats of the recipes you try to confirm that you won't be hungry half an hour after eating dinner. Protein, fiber, and healthy fats are key here.
At my house, we frequently make recipes that use either black beans or chickpeas as a foundation, due to their fiber and protein content. Make sure the meals you make have lots of flavor, too, or you'll just want to go back to your tried-and-true meaty favorites. Here are a few recipes I like that fit the bill:
Try a vegetarian meal kit service
My family hasn't tried any meal kits yet, vegetarian or otherwise — but a few good options are Purple Carrot (dinners start at $9.99/serving), Hello Fresh's vegetarian plan (meals start at $7.49), and Green Chef's "plant-powered" plan (meals start at $9.99). (HungryRoot is more groceries now but also has a ton of vegetarian options.) Readers, which vegetarian meal kits would you recommend — or not recommend?
Talk to your doctor about whether you might need supplements
If you start eating less meat and don't feel good physically, you won't want to stick with it, of course. So if you're going to go vegetarian (or vegan), or just eat less meat, make sure you're getting enough iron, protein, and B12.
Even if you're not interested in logging your food long term, consider using an app like MyFitnessPal to enter all the food you eat in, say, a week so that you can check on your macros and nutrients. I take a daily B12 supplement, and my level tested fine at my last physical.
Keep some vegetarian convenience foods on hand
Sure, they're not the ideal choice for everyday eating, but when you're starting to cut down your meat consumption it's a good idea to to have some on hand for when you don't have time or energy to cook from scratch. You can eat them alone or use them in simple recipes, as mentioned in tip #1.
A few products readers have recommended are Field Roast seitan sausages, Upton's chorizo seitan crumbles, and Trader Joe's frozen entrees. Some of my favorites in this category are Dr. Praeger's Tex-Mex Veggie Burgers, Amy's Kitchen's Indian Golden Lentil Soup (I add rice) and tomato/broccoli/pesto pizza (Trader Joe's has a dupe), and Gardein's Fishless Filets. (Tip: When applicable, always use the oven directions and not the microwave ones, for a better texture.)
Find a local restaurant with great vegetarian options
I don't live in a big city, so I won't bother sharing my local picks here (although if you live in Rochester, NY, hit me up), but when I was in NYC last year, I had an amazing lunch at by CHLOE., a counter-service vegan restaurant that also has non-NYC locations.
To find vegan/vegetarian restaurants in your area, you can filter search results in Yelp or OpenTable or visit HappyCow or The Vegetarian Resource Group. Readers, please chime in to recommend vegan, vegetarian, and veg-friendly restaurants in your cities!
What easy ways have you found to eat less meat? What are your favorite meat substitutes, both those that are designed to be "meat-like," e.g., Impossible Burger, and those that are "natural," e.g., beans?
Stock photo (tofu bowls) via Stencil / Ella Olsson — recipe here.