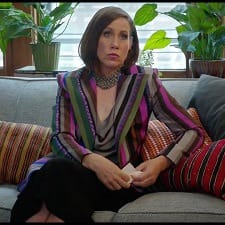 Welcome to another installment in our series on getting workwear inspiration from television shows — while Selina Meyer in Veep and Claire Underwood from House of Cards were obvious choices, I asked the readers for further suggestions. I was thrilled when a number of people mentioned Diana Trout's style from Younger because I love that show, and taking a look at a creative professional is always fun.
For those of you not familiar with the 30-minute comedy on TVLand, at the start of the show, main character Liza (played by Sutton Foster) finds herself in a pickle: about to turn 40, getting divorced, and suddenly needing a job after being a stay-at-home mom for 18 years. She finds herself unable to get even an entry level job in her old career in the publishing world, so a friend comes up with a plan: She can simply rewind her resume to when she was 26 and pretend, in general, to be Younger. She is hired at the small publishing house Empirical, working as an assistant to the esteemed and rising editor Diana Trout, who's played with grace and gravitas by actress Miriam Shor. In early episodes Diana is more of a villainous Devil Wears Prada type of boss; in later seasons she becomes more of a friend — and because she is (unbeknownst to her) the same age as Liza, she represents in many ways the path that Liza didn't take. (Hilary Duff plays a young and rising editor at the same publishing house, Nico Tortorella plays the very cute 30-year-old tattoo artist Liza starts to date, and Peter Hermann plays Charles, the recently divorced publisher of Empirical who really, really wishes Liza weren't a 26-year-old junior staffer. I am on Team Charles, FWIW.) It's cheesy fun and I highly recommend the show!
OK — without further ado, let's take a look at how to get Diana Trout's style from Younger…
Step 1: Get a Huge Collection of Statement Necklaces

I have been known to rock a statement necklace or two in the past, but Diana Trout's collection of statement necklaces puts mine to shame! Statement necklaces are not for everyone, and even harder to pull off well at work, at least in a conservative office — but on Diana they add a heaviness to her looks that sort of feels like it adds to her gravitas in general. By the same token, they're often such witty accents (note the fish necklace in the fifth picture!) that they also lighten her otherwise severe style. 
How to Get Diana Trout's Style: Opt for Black and White

Like Claire Underwood, Diana Trout goes for the classic pairing of black and white. Everything is paired in an artistic way, though, and because she's a fan of the classic red lip, the whole look is sophisticated, put-together, and chic.
Get Workwear Inspiration from Diana Trout: Choose Sharp Blazers

I am drooling over Diana's blazer collection. She favors white blazers that bring a light and airy vibe to what can be a dark New Yorker's wardrobe, but she also likes blazers with an almost architectural vibe.  I'm a little obsessed with the colorful blazer in picture #2 — I spent much of the episode Googling and trying to find it!
Diana Trout's Style Secret: Play to Your Strengths

Jewel tones are a natural with the actress's coloring — dark hair, pale skin, blue eyes. They bring life and color to her otherwise sedate black-and-white wardrobe; make for standout, notice-me pieces; and occasionally even give her a break from the red lip. (In addition to the jewel tones above, you can see a lot of her red dress collection below.)
Finally: An Ode to Belts

I would not have thought a beige/tan/leopard-belt scheme would work with Diana's primarily black, white, and red wardrobe, but it really does work well. If you're the kind of woman who likes leopard, note that it pairs really well with red dresses. (Also: Sequin shoe dresses are not for every office — know yours!)
Ladies, what are your thoughts on how to get Diana Trout's style from Younger? Do you envy her style, find it cartoonish, or prefer to pick one or two style tips for yourself and move on?