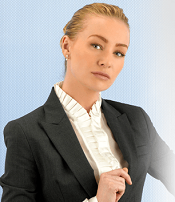 2017 Update: We're thrilled people are still looking to Better Off Ted for workwear inspiration — you can also check out some of our more recent reviews of TV work fashion with our posts on how to look like Selina Meyer in Veep, and how to get Claire Underwood style from House of Cards.
After last week's how to dress like Linda Zwordling on Better Off Ted, we got a ton of comments about how beautifully dressed Portia de Rossi's character, Veronica Palmer, is — and how much folks would love to chat with her stylist. We did some poking around and, lo and behold, found our way to Brandy Lusvardi, the costume designer for Better Off Ted. We just got off the phone with her, and thought we'd share our conversation…
(She is the NICEST person on the planet!!)
How would you describe Veronica's style at the office?
She's in a powerful position at work, so her style was sophisticated, no nonsense. We always saw her in skirt suits — no pants. Her suit is her armor. Her character is kind of cold and quirky, and we tried to play with that as well. It made shopping somewhat easier, in that we were always looking for skirt suits.
However, it's very hard to find skirt suits! They aren't out there all the time. Sometimes the look is shorts and a blazer, which isn't that practical for corporate America.
Part of the reason she looked so good is that we had an amazing tailor — he can make anything look good.
We've noticed that a lot of designers have been showing miniskirts with skirt suits. Did you ever try to work with those?
We had to eliminate miniskirts because Portia's so tall and there's only so much fabric in the hem of the skirt.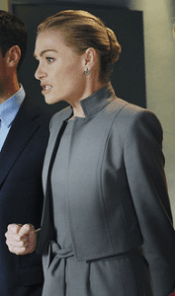 What did you look for in a suit for Veronica?
It is not easy to find a smart sophisticated skirt suit that doesn't look frumpy that also has a nice pattern or color that you like! It was like a full time thing for us. A lot of her suits were designers — Dolce & Gabbana, Gucci, Theory, Tahari.
You mentioned the importance of tailoring — what would you advise women to think about while shopping for a suit?
The trick is to fit the widest part of your body — which will often be your shoulders and bust. Then you can get a tailor to take the waist in, or add darts in the back. It's so worth it — just a little nip gives you a shape that looks powerful and sophisticated. In terms of finding a good jacket, you may need to figure out what the best stance for buttons is — what looks right with your proportions.
It's the same thing with the skirt — figuring out what kind of skirt you can wear. Can you wear a pencil skirt, or is straight or A-line a better look? It's a pretty simple alteration to take it in at the waist.
If it's going to be a too major of an alteration with the tailor, you might want to look somewhere else — some things might not translate to what you're trying to do.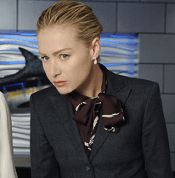 How did you choose Veronica's base layer?
We wanted something interesting to show her personality. The ruffly blouses can look intimidating, but feminine — makes it pop without being "look at me." Nothing's wrong with a shell, but it was part of the character's personality that she is into fashion and wanted to show some of her personality in her clothes. You can find blouses at all price points — $30 through $2,000. And if you don't like the sleeves, you can always have them removed — that's a really simple alteration at the tailor. Just find which colors and which palettes work with your wardrobe and your coloring.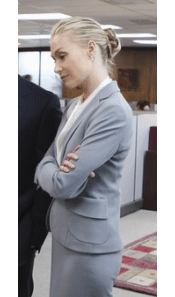 What were some of your favorite suits of Veronica's?
I thought the white/cream/pale gray ones looked really beautiful on her, and complimented her skin and hair and makeup. I also thought that they made her pop — there's a lot of black and navy out there, so it was good to be a little different.
What's your top advice to women to avoid looking frumpy in a skirt suit?
I really can't emphasize the tailoring enough — it is the most important element. Almost everything you see a character wear on television has been tailored to fit right — t-shirts, jeans, everything. And it's tailored to fit all shapes and sizes, and for all characters, from the principal actor to the guy playing the janitor.
Another tip is to take photos of everything — sometimes you think things look great and you look at the picture and realize it really does not look good. Or, sometimes you think something doesn't look that great, but the color on you is amazing. We take photos at every fitting.
Also, the other important element is shoes. Comfort is really important — and it takes a long time but you can find shoes that look good and feel good if you're really persistent. A good pair of shoes changes your posture, your mannerisms, your mood — and there are great shoes at all price points.