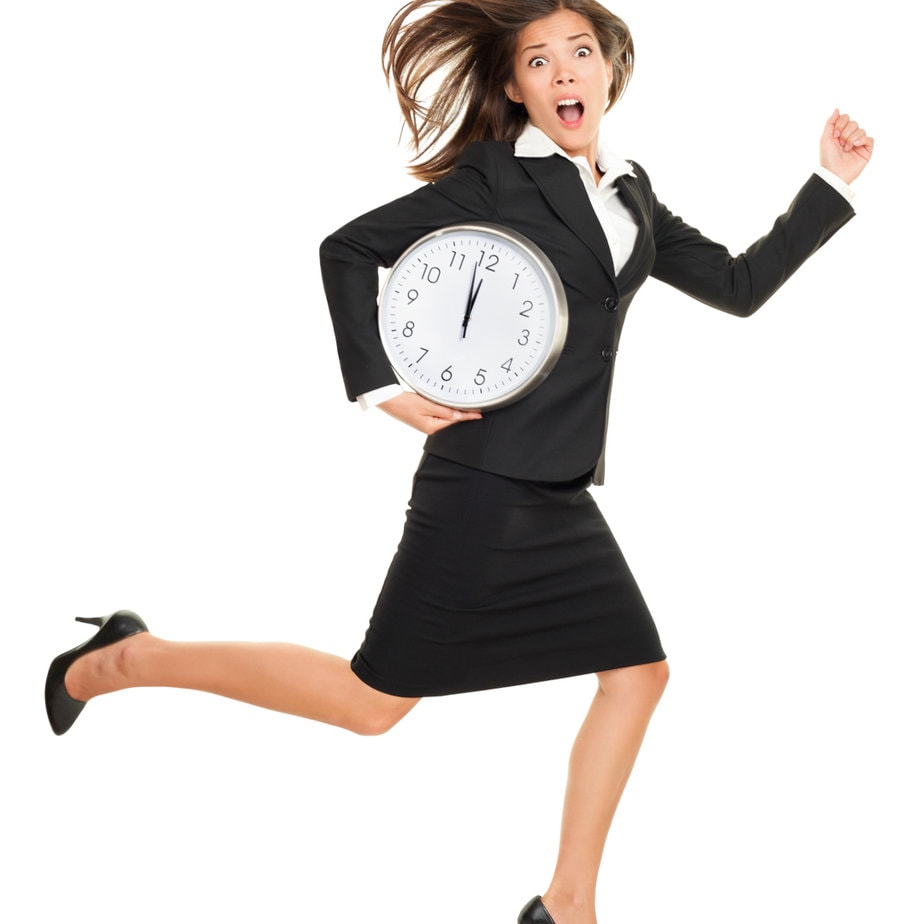 The Wall Street Journal just had an article advising men how to get ready for work quickly, and I thought it might be interesting to discuss here: what are your best tricks to save time in the morning if you're running late?
Some general tips from the WSJ article, some of which are kind of amusing:
only wear one color, or stick to neutrals
"don't waste time on laces" – the author has kicked aside his brogues for slip-on Chelsea boots
along similar lines, they quote someone who doesn't wear anything with "shirt buttons, belt loops, or shoelaces to fumble." (How much time are these men spending on buttoning and lacing things?)
steam your clothes by hanging them while you shower.
one LA stylist advises "to stave off dishevelment . . . put on your clothes in this order: underwear and socks first, followed by pants, shoes and tops." (Golden advice here!) His theory is that the top should be last so if you have to bend over to lace your shoes, you don't get a crease in your button-up.
"shove your head briefly under the bathroom tap, then comb those strands into place before, once they're dryish, applying pomade."
I mean… I wasn't aware men spend so much time buttoning and lacing things, or that they needed advice to put on underwear first. But hey.
So let's discuss from our angle…
My Best Tips on How to Get Ready for Work Quickly
I'm just going to go ahead and steal some tricks from the WSJ: when in doubt where to start, put your underwear on first. One less decision, BOOM. (You're welcome.)
Develop a uniform. If you work in a place where suits are acceptable on regular days, this is a great uniform — you look put together and professional but don't have to think about it at all. Another option here: a dress (one and done!), or a monotone look (black, navy, beige — although note that sometimes there can be shade differences between the colors that are better if they look intentional).
(Obviously: make sure your uniform doesn't include laces or buttons because, you know, efficiency.)
Default to an easy hairstyle. For me this would probably just be leaving my hair long and loose, but we've rounded up some great (and easy!!) updos for work if that isn't an option. My favorite is the inverted chestnut bun. (We had a great discussion a few years ago about how long people spend on their hair for work — the overwhelming answer was, not a ton of time!)
Keep in mind the makeup you have at the office. This is a great reason to keep some easy makeup products at the office — not only can you touch yourself up before going from desk to dinner, but you can also fill in some gaps if your morning routine had to be on the shorter side. We've also had great discussions where readers shared their short makeup routines.
The trickiest part, of course, is your cleansing routine — I almost always shower at night these days, so this wouldn't be an issue for me…. Also, note that things like dry shampoo are actually more effective if you put them on your hair before bed.
For my $.02, if you want to get your hair wet without a shower, I would skip the bathroom tap – I tend to use a combination of a mister and a large mixing bowl (like the plastic kind you get in Walmart for $3) — add some water to the bottom of the bowl, then dunk your head. You're saving water and more comfortable than trying to shove your head under the bathroom tap. (This is similar to the Curly Girl "bowl method.")
Readers, those are my tips — what are yours?
Psst: here's our last discussion on morning routines!
Stock photo via Deposit Photos / Maridav.