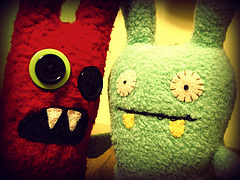 How do you meet new friends and other professionals to add to your social network? Reader K wonders about the old-fashioned, "IRL" methods…
Like many of your readers, I am graduating from law school in May and will be moving to a big city for a BigLaw job. I've never lived in a big city and I am excited about the networking opportunities. My law school girlfriends and I are wondering: how can we go about meeting other smart, interesting women in our new city? We know how to meet lawyers, from our firms and women-lawyer events in our city. What do you suggest for meeting other women in other fields? Do your readers have suggestions of groups they have joined that they have enjoyed? Any advice would be great!
This can be a great counterpart to yesterday's discussion on where to meet potential dates (although that was focused more online than offline, and, obviously, meeting new dates is slightly different than just meeting fun friends). I know readers have talked about this a lot in the comments, but I don't think we've ever done a post on the issue… so let's discuss. (Pictured: Making new friends, originally uploaded to Flickr by sally_monster.) Here are some top ways that I can think of to meet new friends:
– Alumni events.  You've been to undergrad and law school, so you have double the opportunity to network!  Sign up for a listserv or website, and start attending events.  If you have one or two friends already who are not alumni friends, consider inviting each other to your alumni events so you get an even wider base of alumni networking events.  (IMHO, it's not weird at all to bring a non-alumni friend to an alumni event… but it's a bit weird to go to an alumni event by yourself when you're not an alum.)
– Charities.  The Junior League is a big one that is often recommended, and I've had a lot of friends who love the Junior League. It can be pretty much anything, though — many large charities have branches in major cities that you can get involved with.  Similarly, a lot of institutions such as museums and even libraries have membership groups specially designed for the "under 40" set, with relatively low membership costs ($300-$500 per year), a number of nice events, and even seminars and more.  I've belonged to the New York Public Library's Young Lions program (they had amazing seminars, actually!), as well as the American Natural History Museum's Junior Council program (which had killer cocktail hours and private showings of the exhibitions just for the JC — really cool stuff).
– Networking groups.  Each city seems to have at least one or two networks for people in the city to meet each other. For example, DC has Pros in the City; Netparty has options in a number of different cities.  If you have a specific interest, Meetup.com has a huge number of different networking events (I've attended several seminars on brands, content, and fashion issues, for example) (and, ha, was even pictured in a subway ad for them).
– Hobby groups and classes.  For example, I know a lot of readers love knitting.
– Running groups or other athletic outings such as aerobic classes or yoga classes.
Whatever event you choose, arrive early, be friendly, and try to build a rapport.  Once you've been talking with someone for a while (maybe it'll be 20 minutes, maybe it'll be 20 minutes each for five classes, maybe it'll be 20 minutes spread over 5 classes — it really just depends on the person!), ask 'em out for coffee or a glass of wine.  If that feels too "forward" to you, try suggesting something else in the city you've been wanting to try — a museum, a new restaurant, a new bar — and see if the other woman bites and either invites herself along or expresses such interest that you feel comfortable inviting her along.  I've made a number of post-college friends that way.  Some of them were awkward "dates" where we just didn't hit it off and we didn't try to hang out again… others turned into BFFs.
Readers, what are your favorite ways to meet new friends?  Any specific groups in specific cities you want to recommend?