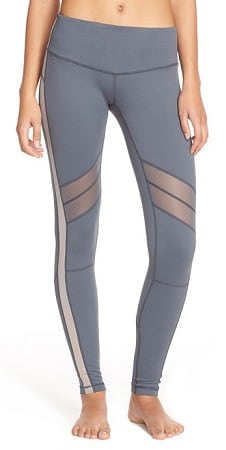 Something on your mind? Chat about it here.
I'll admit, I clutched my pearls a bit when I first started seeing leggings with mesh insets. Mesh? On my upper thigh? Oh no no no. But I honestly really like them now. They seem far, far more acceptable than short shorts, and as someone who isn't super fit I feel comfortable wearing them while I work on, you know, getting more fit. This pair comes in sizes XS-XL, and is $64; if mesh isn't your thing this popular legging comes in a zillion other colors in regular and plus sizes. Pictured: Zella 'Live In – Spectrum' Leggings
Are you guys looking forward to any outdoor workouts this weekend?  
Psst: here's a more affordable option for fun mesh-inset leggings (they also come in petite and tall sizes). Another shoutout: if you happen to be large of bust and on the hunt for a good workout bra, give this Freya one a try — it's so much more flattering/pretty than my old favorite, the Enell, but is functionally great as a sports bra. The trick (suggested by a fitter during my last trip to Bratenders) is to size way down in the band, and accordingly go up in the cup — I normally wear a 36 band but went down to a 32 in the sports bra.