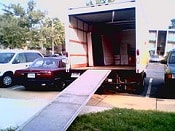 How do you tell your friends and family you're moving for work? How do you even decide to take a job that's far away from family and friends? Reader L wrote in with an interesting question:
I'm a recent college grad and I just accepted my first job offer (yay!). I'll be moving across the country, and I'm working on updating my closet. There's just one (sort of) huge issue.

I have no idea how to prepare my family and friends for this. I haven't told anyone that I will be moving, and the move is literally two weeks away. What's a suggestion for the easiest/quickest way to tell people, without hang-ups?
Congratulations, L! We've talked about how to job hunt in a different city, how to make new friends, and I've shared my moving tips for Type As — but we haven't talked about the decision of whether or not to move for a job, nor have we talked about how to tell your friends. So, readers — if you've had a big move, how did you tell your loved ones? How did you decide to take the job?
For my $.02 of advice for Reader L, I would note:
If you've already made the decision to take the job, just do it — if you can't break the news to your family or closest friends in person, give them a call. Emphasize the opportunity and how excited you are for the job (as well as, perhaps, the short plane flight).
Know when your first visit home will be so you can tell your closest a specific date.
If your parents are unfamiliar with newer technology like Skype, teach them how to use it.
To the extent you can, leave a lot of time in your schedule to go to breakfast, lunch, or dinner with friends.
Personally, I've made a few big moves, first from the suburbs of Cleveland, OH to Evanston, IL for undergrad, then from Northwestern to New York for my first summer internship at a magazine, then from NYC to DC for law school, and back again. It's never easy to leave good friends and family behind (to say nothing of moving house and settling in to a new city) but it is sometimes a necessary evil. On the flip side, I've turned down amazing career opportunities because they involved major moves — I turned down a huge legal opportunity on the West Coast because it came up right around the time I'd started dating my (now) husband. I wonder about it sometimes, but I have no regrets about my decision.
Readers, what are your experiences and thoughts with taking a job far from friends and family? Have you made big moves in your life?
Pictured: Moving Day, originally uploaded to Flickr by Gavin St Ours.