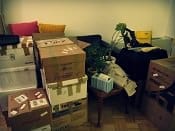 2017 Update: We still stand by this Type A Guide to Moving — you may also want to check out more recent discussions about your home, as well as some of our other organizing tips for Type A ladies. 
I've moved far too many times, particularly in my early 20s when I was interning a lot. (My record is 8 different addresses between April 1997 and April 1999, not even counting 2-week "pitstops" at my parents' house to unpack everything I needed while interning and repack everything I needed for college.) Things have settled down a lot in the past decade or so, fortunately, but I still have some moving tips that might be helpful if anyone is moving in the next few weeks.  So, here are my top 10 tips for the Type A Guide to Moving:
Some Tips for Packing Preparation:
1) Go to an office supply store and buy printable address label sheets. Print sheets of them with the following information: Your name (as well as the names of any roommates or your significant other), the new address, and one cell phone / email address. Affix one to every box you pack, as well as to the back of every picture/mirror/unpackable item. (I learned this lesson the hard way — one of my favorite prints, a framed Miro, went missing after my last move, and we had not affixed a label to the back of it.)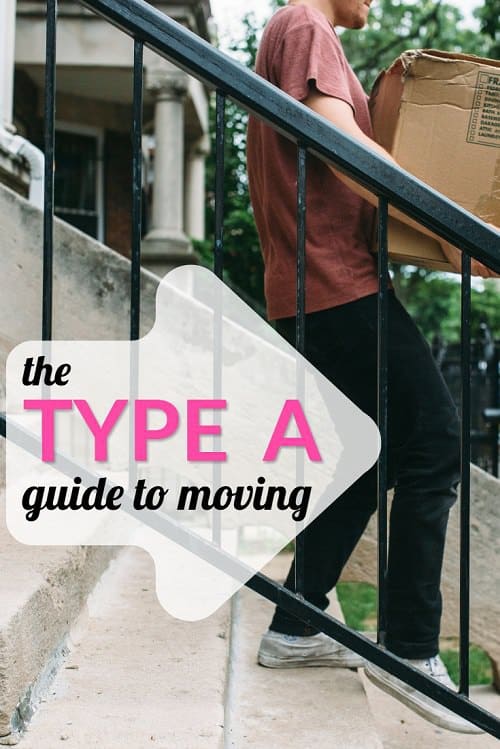 2) Using the same address labels, print sheets that say things like: KITCHEN. BEDROOM. LIVING ROOM. You may want to affix these in numerous places on the box. This will help you get set up when the movers are coming in — they can just drop stuff off in the correct room. I also find it helpful to print up a sheet of labels that say "FRAGILE" as well as "HEAVY" — it helps you realize what shouldn't be stacked, who can carry what, etc.
3) For extra-double bonus points, NUMBER your boxes as you pack them. (I like to use a colored Sharpie and circle the numbers, but that's me.  You can see some random numbers on the boxes in the pic above (from our December 2009 move).) Keep a spare pad of paper around and do a really rough description of what's in the box, like "1 – Kitchen pots," or "75 – Humor books" or whatever. This list should be enough to help you figure out a) how angry you are if that box is lost in transit, and b) which box you can leave unpacked for 3 months. In fact, you might want to put a star next to the really important boxes. On moving day, draw up a list of all of the numbers — and as your movers come into the room, have someone cross off each box as it comes in the door. (My most recent movers were really great and would just shout out the numbers without any prompting.)
Advice for Actually Packing:
4) Figure out what can be packed first. You should look for things that won't be missed (say, your reference books from college), as well as things that can be packed neatly away so you don't feel like the walls are closing in.  For example, I have two big Ikea Expedit bookcases filled with stuff, and they're my favorite place to start. Not only can I usually live without my books for a few weeks, but I can also stuff 3 or 4 shelves worth of books into one box. As luck would have it, banker's boxes fit perfectly on the shelves — they slide right in.  It makes for an ugly apartment, for sure, but it keeps the floor space free for other packing.
5) Create boxes to UNPACK first. With kitchen stuff, particularly, I find that it's helpful to have one box of things that are really helpful on a day to day basis. My box usually contains things such as a big pot, an Everyday pan, and perhaps a smaller saute pan, as well as hard-to-break dishes such as Corelle. Include other important tools in here <cough, wine opener, cough>.
6) Use garment bags
for clothes that are already hanging. I prefer to do this because they're so much easier to unpack, but it can cost a bit more with the movers (they may make you use special garment rack boxes). I stuff as many as will fit into one bag, and then buy long twist-ties (or loop several smaller ones together) to tie the top of the hangers together.  This helps them be rehung easily, and keeps them from shifting around too much in the garment bag (which in turn helps the clothes stay on the hangers).
7) If you're using a moving company, figure out their rules regarding supplies and time. I once had a mover's bill be almost double what they had quoted me because of "supplies" — they would decide that, say, a $10 lamp from Bed Bath & Beyond needed a special box with lots of tape around it — as I watched they would use half the roll of tape on one box and then discard the tape roll by throwing it over their shoulders. Amusingly (I can laugh about it now), each tape roll was like $10, and that "special box" was like $30. On the flip side, the moving company I've used for my last two moves let me use big bins with wheels to throw a bunch of random things into, which helped save time.  (One bin might have been filled with 4-6 banker's boxes, my step aerobics equipment, my yoga mat, and 4-6 garment bags.)
Some Last Moving Tips
8) Once your old apartment is empty, take a video of it. Just do a simple walk through of every room and show the state of the walls, the floors, as well as any damage that you know about already.  It's just a good way to insure yourself against any fights with your former landlord.  (On the flip side, before you move into your new apartment, take a walk-through of it, to record whatever damage is already there.)

9) Cook ahead. If you know the next few weeks will be hectic and you'll still be unpacking, try to prepare your diet for it.  Either make a lot of freezable/microwavable meals (hello, lasagna!) or purchase a bunch of frozen entrees once you move — it will ultimately be better for your diet than ordering pizza every night for 3 weeks.
10) Make it easy to redirect mail. Once you've moved, use the address label sheets to print out labels that say MOVED on them (or if you're really nice, include the former resident's new address) so when you get the former resident's mail, all you have to do is affix a sticker to it and throw it back in the mail.  Similarly, you can change your mailing address with the post office online.
Readers, what are your best moving tips?  Any fun adventures or misadventures to share about your moving experiences?