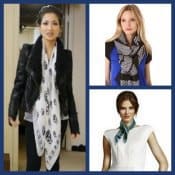 2018 Update: We still stand by this discussion of whether scarves are professional enough for conferences — but you may also want to check out our more recent discussion of how to wear scarves to work. 
Are scarves professional enough for conferences? Are there some ways of wearing a scarf that are more professional than other ways? How, in general, do you dress for a male-dominated conference? Reader A, writing from Europe (and a very male-dominated profession), wonders:
Maybe this is a cultural issue, but I'd never, ever, wear a scarf to a conference. Ever. At the office, sure, if there's no meetings. At a conference, however, there is no more surefire way to be treated like a hostess/secretary/admin than wearing a scarf. The women who actually have those jobs are all colour-coordinated, but that doesn't help. All people see is scarf or no scarf. I think it's a real shame, as I like scarves and the femininity they bring to an outfit. Instead, I've settled for statement jackets, or a skirt or shoes that "pop". Is this because I'm in a (very) male dominated business, or is it a Europe/US thing?
We've talked about
how to wear scarves
, as well as
how to pack for conferences
and
what to wear to conferences
before, of course, but this is a new one — and a very interesting one, given that scarves would never strike me as something a) unprofessional in general, b) hostess/secretary/admin. When I worked at a very male-dominated law firm, one of the female partners I worked closely with — who certainly commanded respect from everyone — was known for her collection of Hermes scarves that she would wear long and loose beneath her blazers, a bit like the "drape scarf with bomber jacket" look above from
Wendy's Lookbook
. (If you haven't seen it, her
scarf-tying tutorial
is pretty awesome; the screenshot above is from the "
companion
" video. Another great resource generally:
Une Femme d'un Certain Âge
.) The next person who comes to mind when I think of scarves is an intern I worked with a few years ago, who often accessorized a simple long-sleeved t-shirt or sweater with a scarf wrapped loosely around her neck, almost like a cowl (as pictured in the blue/black picture above — that's the DvF Hanovar Scarf, available for $165 at
ShopBop
.) It always struck me as a professional, put-together look. The ONLY scarf look that I can think of that has negative connotations — for me at least — is the "flight attendant/50s schoolgirl" look: a scarf tied once, tightly around the neck, with the ends left out (as in picture #3 above. Gorgeous scarf, though: it's the Pucci Swirl Silk Scarf, available at Ventee-Privee for $89 (was $250);
click here
for an invite if you're not a member.)  I'm sure I've seen women pull it off in a stylish way, but I feel like it's a hard look to make modern unless you also have the benefit of being French. Now — maybe what reader A is getting at is that a scarf is a more feminine look. But both of the women I mention above (the partner and the intern) wore very simple pants. In fact it's almost hard for me to imagine how something as simple as a scarf could be seen as "so feminine that obviously she's the hostess." Pink glitter platform heels, sure. A mini-skirt, sure. Even big tacky jewelry (a la Melanie Griffith's "before" in Working Girl) — sure. But a scarf?
Some social media images (flight attendant) via Deposit Photos / ViewStock.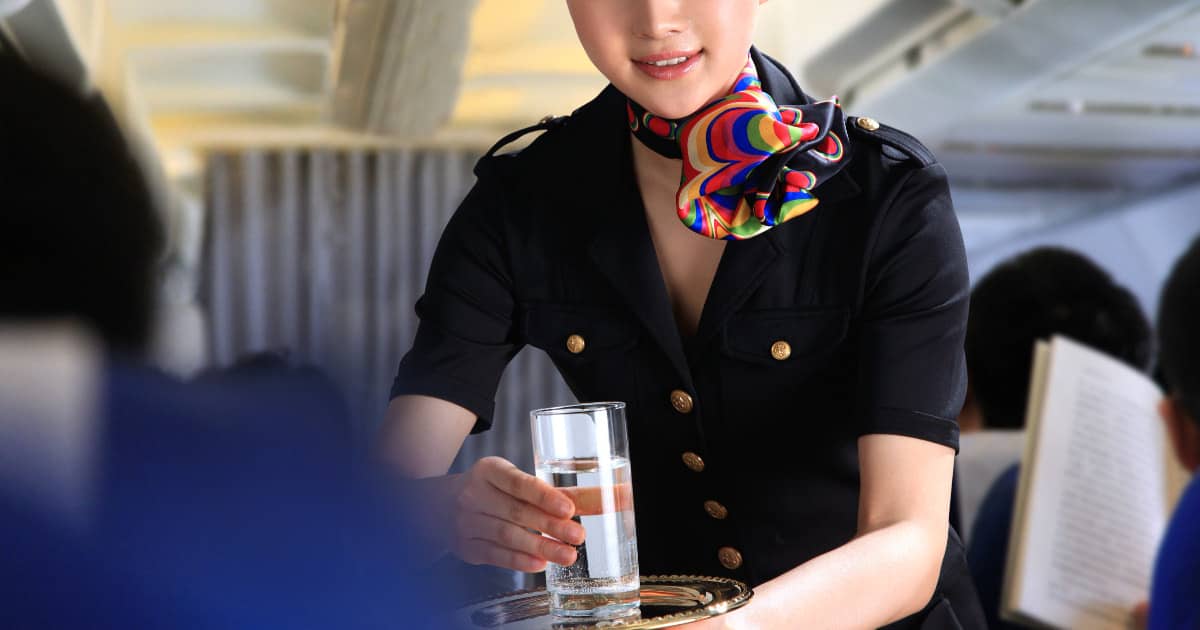 Readers, what do you associate with scarves? What is your favorite way to wear them for work? In general, what do you wear for a conference in a male-dominated profession?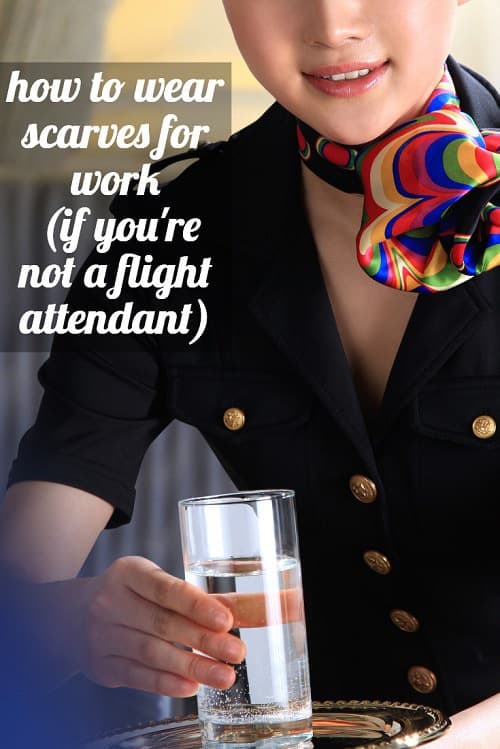 We are a participant in the Amazon Services LLC Associates Program, an affiliate advertising program designed to provide a means for us to earn fees by linking to Amazon.com and affiliated sites.