2020 Update: We still stand by this advice on how to create a capsule wardrobe for work — but you may also want to check out our free four-week outfit challenge if you're hunting for work outfit ideas for conservative offices. (Our Ultimate Guide to Business Casual for Women may also be helpful for you, as well as our recent Minimalist's Guide to Dressing for Work!)
The business capsule wardrobe — a limited number of essential pieces that can be combined to create many outfits — has been growing in popularity, which makes sense when you look at the parallel trends of "slow fashion" and Marie Kondo's The Life-Changing Magic of Tidying Up. A focus on quality pieces + an emphasis on decluttering/organization = a capsule wardrobe. But how do you create one for the office, and how do you pare down what's currently in your closet? Reader C wonders…
I am a huge fan of Corporette, and wanted to submit a suggestion for a future post. Since a huge feature of the site is work appropriate clothing, I would be interested in discussing what women professionals' wardrobes actually contain. After spending several years in New York, I have learned to really cull my wardrobe (which is also better for my budget)! I was inspired by a writer named Jennifer Scott (I have no affiliation with her) who has published a book called Lessons from Madame Chic. In the book, as well as on her blog, she discusses the concept of having a capsule wardrobe of items that are high quality and that you repeat throughout the season. The concept is flexible — for instance, an attorney will have more clothing than she will, as a homemaker — but the idea is to invest in better, fewer clothes that last. I am putting this into action myself, but am curious to see if others do the same, and how (and whether this is of interest to my fellow Corporette readers).
We've talked about how to shop your closet, "fashion math," how often you can repeat your work outfits, and where to start when you need style inspiration, but we haven't specifically talked about capsule wardrobes. I'm still learning about them myself, so I'm curious to hear what people think. I think the idea of a capsule wardrobe has been around for years — certainly for travel. But Madame Chic (which apparently is the #1 book in fashion and style right now on Amazon!), the trend towards decluttering, Instagram challenges… more and more people are viewing capsule wardrobes as a great way to dress every day. Buy less stuff, buy good stuff, and wear it all the time. A number of bloggers post capsule wardrobes (see our "further reading" links below); even the author of Madame Chic has YouTube videos showcasing her own capsule wardrobes. (Some people take this even further, like Obama, and wear only one outfit, period, to cut down on decision fatigue.)
So how do you do it for work? Here's my $.02:
If you already have something you love, start with that. If it would make you really sad to never wear your bright orange Louis Vuitton Epi bag (or something), then start with that in the mix. If there's an obi belt you love — or a pair of purple pumps — make sure that everything you choose in your capsule will work with that piece.
Pick a base neutral. Black, navy, gray, or beige — what color is your favorite suit? What color are most of your accessories? If your favorite bags and shoes are brown, you may want to reconsider black. Pick ONE base neutral. Wardrobe items to consider buying here:

A matching suit with separates — blazer, sheath dress, pencil skirt, trousers.
A pair of pumps
A bag
A belt

Pick a second neutral. White, cream, caramel, gray, navy, beige — by picking one piece to focus on (instead of randomly buying neutrals willy nilly) you'll have a more cohesive look. If you're in such a business casual office that jeans are acceptable, I might consider your favorite denim (or denim in general) to be a second neutral. Items to consider getting here:

An on-trend pair of work-appropriate pants (whether it's ankle pants, flowy pants, or high-waisted flared trousers is up to you)
a sheath dress
a blazer to wear as a separate — with texture
a crisp blouse
a flowy blouse

Pick two or three colors to focus on for accents. I realized recently I prefer to wear contrasting colors, rather than complementary colors — so for me I think I'm going to try to focus future purchases on cobalt blue, red, and purple. I like red and purple together. I like cobalt and red together. Cobalt and purple is a bit too complementary for me — but it's still a cohesive look. (If this is way too much color for you, pick a third or fourth neutral, or softer colors — light blue or mint green, for example.) If you're really limiting things you don't need a ton of pieces in these colors. I'd suggest a few things:

A pair of shoes for a pop of color
A statement necklace
A pencil skirt or flared skirt
A blazer or cardigan
A blouse with a print in one of your colors
a scarf with a print in one of your colors
A bag in one of your accent colors — if your neutral bag is a tote, get this one as a satchel, shoulder bag, or clutch.

A few neutral jewelry pieces to complement your other pieces. If you like grays, you may want to go with a lot of silver pieces; if you're doing beige, go with gold. I always like white jewelry also — pearls, white druzy, white moonstone, etc. Think a long metal necklace, a short pendant necklace, a short round metal necklace, a statement necklace with big stones, perhaps in white or clear (for maximum versatility), and probably a pair or two of huggie earrings. (We've talked about how to built a jewelry collection for work before, of course.)
So: here's how my capsule collection might look, if I were putting it together today. This is 22 pieces — with Project 33 that leaves plenty of room. A few notes while putting this together:
You can swap out one or two colors as you change the seasons. If this feels better suited for fall, imagine all of the red pieces exchanged for white pieces — it feels much more Pucci-esque for summer.
Alas, there is some sacrifice — there was a great green blouse I liked, and a fabulous navy scarf I passed up because I was limiting myself to the colors in my capsule. While they may have gone with a few items in the collection, they wouldn't have gone with all of them — so out they go.
While prints can be limiting in that people remember them more, note that some of the prints here were very lucky finds — the purple, red and blue scarf will look amazing with just about everything but the blue pencil skirt — which will look amazing with just about everything but the scarf.
Note the big role that the basics play here — particularly how versatile the suit will be. Wear the blazer with all of the skirts — wear the pants and skirt with all of the tops. This is where most of your money should go, particularly as they move with you from season to season.
Note that if this feels boring to you, texture can play a bigger role. Don't forget the monochromatic outfits, either — the red blouse with the red skirt; the gray cardigan with the gray pants and flats… lots of fun to be had.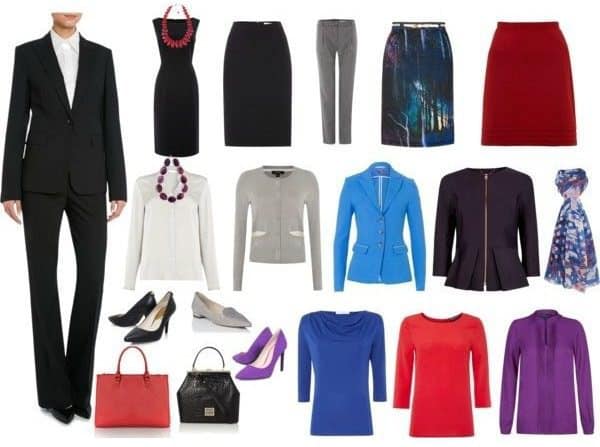 Further reading:
Like this article? Please feel free to Pin it or otherwise share it with your friends! (You can also follow us on Pinterest!)