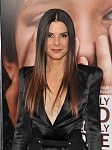 Is ombre hair appropriate for the office? When does any hair color become "unprofessional"? Reader P wrote in with a great question, and perhaps might lead us to an interesting discussion of when hair dyes and colors cross the line:
I was wondering if you could do a post on whether ombre hair is professional. I graduated from law school last May and am currently interviewing for positions. I have this "fellowship" through my school for now (used for rankings), but am looking for a full time real job. I have long black hair and am thinking about getting the ombre look with either medium to dark brown on the ends or perhaps auburn. What do you think of this look? Is it acceptable in the professional setting or does it seem to casual? Here are some images of what I'm thinking of: here and here.
Every time I think we've covered hair as completely as it can be covered, another question comes up. We've talked about platinum blond hair at the office, as well as gray hair at the office, but not other hair dyes and colors. So let's discuss.
When I first saw her question (before clicking on the pictures), I'll admit my reaction here was HELL NO (followed by, is ombre hair still a thing?). But… I looked at the pictures and I think these are subtle, interesting effects, and I think if she wanted to she could probably get away with them at the office. That said, I don't think I'd necessarily recommend the look for interviewing — it's still a tough market out there, and there should be nothing about your appearance that distracts from your accomplishments and skills.
But in general, when does hair color become unprofessional?  It's a sliding scale, I think. So I'm going to lay out a few questions that I might ask myself when considering whether a certain dye job is too wacky for the office — but I'm curious to hear what the readers say. Here are my questions :
1) Is the hair color you want found in nature?  Here, it's a tricky question — ombre hair isn't really found in nature, but the components of the hair color (reddish, brownish, blackish) are all found in nature. I'd say that the farther you get from nature (blue, pink, clownish red) the more in danger you are.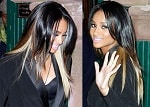 2) Does the hair color look like something you did intentionally, or does it look like you made a mistake?  I think this is the problem with some ombre hair (such as the black/blond combo pictured at right). Some people have black hair. Some people have blond hair. But they don't usually have both. And even though the (model? actress? I admit I've no idea who she is) looks lovely, with super shiny, sleek hair… I just think that after a day or two (or particularly if you try to put your hair up in a bun or ponytail) it's going to look like your hair color was not an intentional thing.
3) What will the crotchety old VIP in your office think?  Will he or she notice your dye job? is s/he now going to call you "the girl with the wacky hair"? I think if you have ombre hair like either of the two pictures Reader P sent in, s/he probably won't even notice. (I think the fact that ombre hair has been around for a few years actually works in your favor here). If you're making a drastic shift, though — say, mousy brown hair to platinum blond — they will definitely notice. Which brings us to:
4)  How does it look on you?  I'd say you have anywhere from one to five business days (at most) to figure this out. If the color is completely wrong on you — and you look like a clown, like an animal, like it's blotchy, like you're trying to look older or younger — then you have to change it as soon as possible. Why? Because wearing things that make you look bad is an error in judgment, and that affects how people view you professionally.
I'd say there are other considerations with hair color, as well. For example, can you keep up with the upkeep? If you have massive roots showing (for example) that brings us back to Question 4.
Ladies, what do you think — is subdued ombre hair appropriate for the office? When does any hair color become unprofessional? (And: would you interview with ombre hair?)