Sure, we all know what wardrobe essentials for work professional women are supposed to have in their closets, but if you're buying one for the first time or replacing one you've worn into the ground, it can be a pain to find exactly the right incarnation in stores. In "The Hunt," we search the stores for a basic item that every woman should have.
In honor of on campus interviews coming up, I thought I'd focus today's Hunt on job interview heels. What DO you look for in a job interview heel, readers?
The most important thing to me, first, is that a job interview heel is comfortable for you — this may mean arch support, it may mean a puffy, sneaker-like insole, it may mean anywhere from a 2″ heel to a 4″ heel. (You can also wear flats for an interview, of course!)
A comfortable shoe means a confident stride — I've seen some women interviewing look wobbly and unsteady on their feet. Don't choose height  for "style reasons" if you feel like a baby giraffe just learning to walk!
The second thing that's most important for an interview shoe is that the shoe should be pristine — no scuffs, marks, or anything. If you're interviewing in a heel you've had for a while, take it to the cobbler for new tips and polishing, at the very least. (Along the lines of a "confident stride," note that many cobblers can add rubber tips to heels and even replace part of the sole with a rubber portion to make the shoe less slippery.)
Readers, how about you — have you gotten any great job interview heels lately? Have you seen any faux pas or other fashion gaffes (or made any yourself) while choosing heels for job interviews?
Our Latest Favorite Job Interview Heels
This post contains affiliate links and Corporette® may earn commissions for purchases made through links in this post. For more details see here. Thank you so much for your support!
These are some of our favorite comfortable low heels for work as of 2023… also check out CK Calvin Klein, Trotters, Sam Edelman, and Sarah Flynt!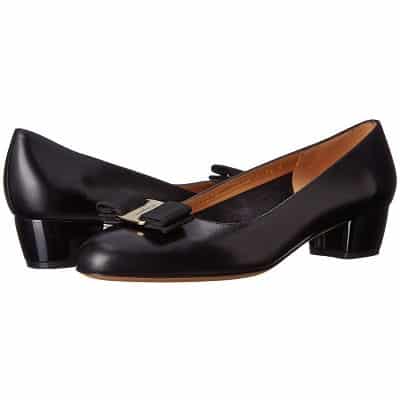 (Curious for our other roundups of black pumps? In addition to the several specific shoes mentioned in our Guide to Comfortable Heels, here are our roundups from 2021, 2018, 2017, 2016, 2016, 2015, 2013 (interview pumps AND our low heel roundup), 2012 (under $250) and 2008, as well as our comfort-focused roundups of 2016 and 2010 and our posts on extended sizes for professional women's shoes.)
Trendier, Of-The-Moment Job Interview Heels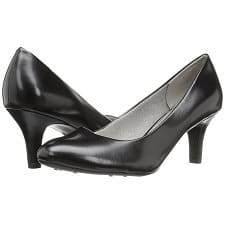 I swear we've featured these before, but I can't find them — these Lifestride heels are coming up for pretty much every search I do at Zappos. They're affordable, the brand is known for comfort, they've got a relatively low heel (2.5″), they come in a zillion colors, and — whoa — they've got 328 5-star reviews. They're $57 new, but Amazon has some lucky sizes as low as $15. Lifestride Parigi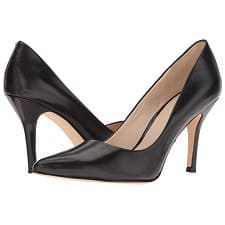 I've always preferred the lower-heeled version of these classic, basic pumps from Nine West — but this 3.5″ heel is a best-seller at Zappos with 479 5-star reviews. The shoes come in a ton of colors, multiple widths, and some colors and sizes marked as low as $32 Zappos and Amazon – nice. (It's $69 full price.) Nine West Flax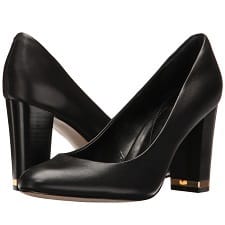 Isolá hasn't had a basic pump in a few years, but as Børn's more sophisticated sister brand, I always check! This high block heel is definitely on the trendier side, but would do just as well for a job interview if it's comfortable to you. It's $70-$99 at Zappos, Nordstrom, and Amazon. Isolá Eleni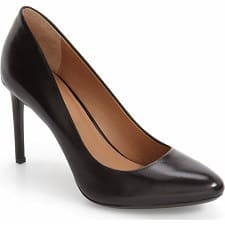 Whoa: we've featured a lot of Calvin Klein heels over the years, but I haven't seen an affordable heel marketed as "water resistant" — usually you have to get to the $300+ price range to get a water resistant and stylish shoe. This one is high, also (3.5″) — but again, so long as it's comfortable to you and you can walk in it, it's fine for a job interview. It's $110 at Nordstrom. (Amazon also has some options, but it's unclear to me if they're water resistant as well.) Calvin Klein Salene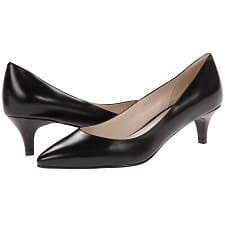 I was going to include Cole Haan as a "more expensive but worth it" option, but huzzah: the classic Julianne pump is on sale at Zappos for $104 (down from $150). I've pictured the 45mm heel, but it also comes in 75mm — both styles come in multiple colors and widths. Cole Haan Juliana
Sam Edelman consistently knocks out affordable, comfortable shoes. We've featured this 3.75″ heel before, and it continues to get really solid reviews at Zappos, Nordstrom, and Amazon. (Psst: Note that Amazon does have some Sam Edelman shoes in their Prime Day sales today.) It's $119 at full price, comes in a zillion colors, sizes 4-13, with widths N, M, and W. Sam Edelman Hazel
Like this feature? Check out other recent installments, as well as our collection of best-selling styles in our Guide to Wardrobe Essentials for Work!
This post contains affiliate links and Corporette® may earn commissions for purchases made through links in this post. For more details see here. Thank you so much for your support!