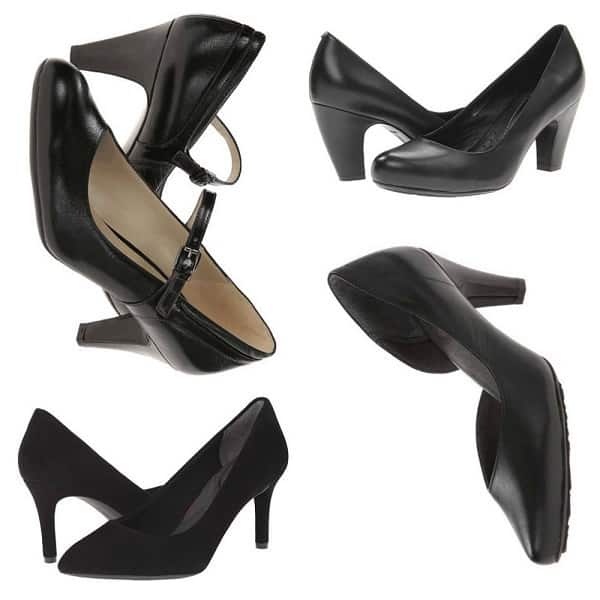 2019 Update: Links have been updated below; please also check out our new and revised guide to comfortable heels or our latest roundup of the best black heels for business attire, as well as our roundup just for "comfort heels". And if you're new here (welcome!), please consider signing up for our email list, or checking out our "start here" page!
Pictured at left, clockwise: strappy pump, chunky heel, half d'Orsay pump, pointy toe pump.
Today's reader mail has to do with comfortable shoes…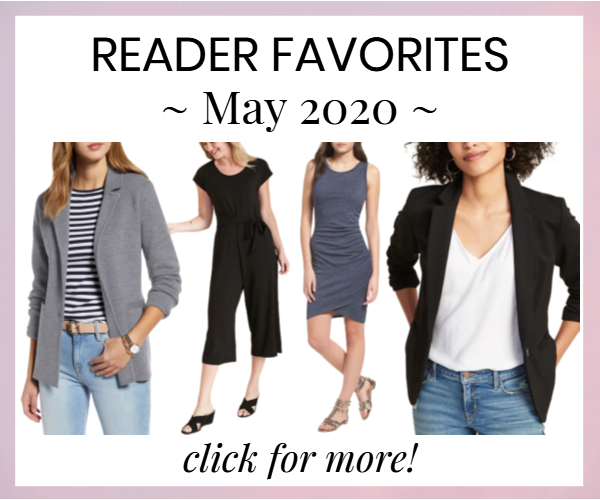 I was wondering whether you had heard of Tsubo shoes. I recently posted on Facebook about my quest for comfortable heels, and instead of the usual "get the Cole Haan Nike Air pumps" suggestion, two people posted about Tsubos. I checked out the site, and the shoes really do appear to be very well made and at $100 to $150, a reasonable expenditure, even for me. Thought it might be worth a post. Many of your readers certainly must be walking to the courthouse regularly, and are probably looking for fashionable yet professional footwear that won't cause them to limp by the end of the day. (2019 Update; pictured below: take a look at our roundup of our top ten favorite most comfortable heel brands!)

Seriously, forget the Holy Grail — this is one of our lifelong quests. As one might expect from all the Mary Jane and other comfortable-type shoes we post (what? we wear 'em with pants) this author has problem feet — it's incredibly difficult to get shoes that both feel and look great. Not only does it seem like there are variances within each brand (e.g., some of our Cole Haans we love, others we want to throw across the room), but shoes that were favorites in previous seasons become hated things in newer ones (and never get better). Whine, whine — perhaps we just need a higher tolerance for pain. (As for the blog, we can't bring ourselves to recommend, sight unseen, shoes that we would never even order ourselves. So again, ladies, send us your suggestions!) In terms of pain, we actually read a book about feet a while ago that contained some helpful exercises, such as drawing the alphabet with a pointed toe, or spending a few minutes, barefoot, trying to pick up a pencil with your toes — but that doesn't help with the comfort of shoes to begin with.
Regarding Tsubo: heard of them, but have never owned a pair — one of the pairs we considered buying on Zappos several months ago seemed to have a number of comments about the leather stretching. But that doesn't mean we'd never try the brand in general. (Pictured above: Tsubo – Amset, on sale at Zappos for $114 (were $130), available in sizes 6-11.) The brands we've heard most often touted as comfortable ones can be broken down into these sorts of categories:
With thatsaid, we still find that luck — not research — nets us our most comfortable pairs of shoes. In fact, our favorite 3 pairs of shoes right now are from the following brands:
Clarks — a simple pair of black boots (the "Luna Reef") for wear with pants — comfy, walkable
Sacco – black leather and suede pair of 3″ pumps that we keep at the office (got several seasons ago)
Naturalizer — a wee bit embarrassing, but we have a pair of pointy-toed kitten heels from years ago that we can walk for miles in. The sole is actually wearing out on these babies (in a non-replaceable way), so we desperately need to find a new "I'm wearing a suit, standing for 3 hours, and then walking a mile" pair of shoes.
But perhaps we just need a better breaking-in procedure — a friend told us that the trick was to wear the shoe barefoot and then saturate the leather with perfume — something about the alcohol shrinking the leather to your foot. We've never tried this (and actually, if memory serves, one of the main points to the book was that there is no such thing as "breaking in" shoes; they either fit or don't).
What are your favorite three pairs of shoes right now (if possible, post links!)? Which brands are your go-to ones for comfort? Do you do anything to break in your shoes?
Social media picture credit: Deposit Photos / © sbotas.