Pictured above, some of our favorite black heels for the office: one / two / three / four / five
Sure, we all know professional women are supposed to have a pair of comfortable black pumps in their closets, but if you're buying one for the first time or replacing one you've worn into the ground, it can be a pain to find exactly the right incarnation in stores. In "The Hunt," we search the stores for a basic item that every woman should have.
Wow – I don't think we've done a Hunt on basic black pumps in a LONG, long while. Which are your favorite black pumps right now, ladies? Do you prefer a more modern style like the popular Vince heels or Steve Madden heels featured below — or are you classic all the way, like one of our more traditional Hall of Famers? Do you personally prefer pointier toes or more almond toes (there are a ton of both on the market right now!) If you were looking for a new pump for an interview outfit, what would you buy? It's great to see so many options in low heels, high heels, and strappy pumps.
(List updated 2020!):
(Curious for our previous roundups of black pumps? In addition to the several specific shoes mentioned in our Guide to Comfortable Heels, we also did a 2013 guide to interview pumps and to low heels, a 2012 guide to black pumps under $250, 2008 guide to basic black pumps.
Classic Black Pumps for Work
Pictured above, some of our favorite black heels for the office: one / two / three / four / five
(Curious for our other roundups of black pumps? In addition to the several specific shoes mentioned in our Guide to Comfortable Heels, here are our roundups from 2021, 2018, 2017, 2016, 2016, 2015, 2013 (interview pumps AND our low heel roundup), 2012 (under $250) and 2008, as well as our comfort-focused roundups of 2016 and 2010 and our posts on extended sizes for professional women's shoes.)
Six Trendy Black Pumps
We've featured these shoes a lot over the years, but still, they're worthy of mention because of the HUGE number of colors they have available right now. Zappos has 13 colors available at full price, and Amazon has a ton (some as low as $2o! the pictured shoes are $50). They're $79 at full price, available up to a size 13, and come in wider widths as well. Nine West Margot Heel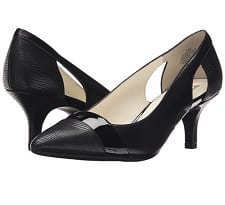 I always have a soft spot in my heart for Anne Klein's line of comfortable heels (sometimes called the Flex line or the iFlex line) because I met my husband while wearing a pair of AK pumps (a strappy red peep toe, if you're curious). These are affordable, the cutouts and textured toe add a bit of interest, and they have five solid reviews — one reviewer liked them so much she bought all five colors the shoe comes in. The shoe is $79, and available in sizes 5-11. Anne Klein Firstclass
Block heels are THE trend of the moment — and you can find them in all price points. Because they are so trendy I'd probably stay to the lower end of the price spectrum, but that's me. These Steve Madden ones are getting a lot of good reviews over at Nordstrom as well as Zappos, but several reviewers note that they run small. (Note that at 4″ high, these are only for the devout high heel lovers among you — if when walking you look like a baby giraffe, find another shoe.) Other similar styles include: Corso Como ($140), Calvin Klein (round toe, $99), Calvin Klein (pointy toe, $129), and Marc Fisher LTD ($130) — on the higher end you have Alexander Wang, Chloé, Jimmy Choo, and Tod's. Pictured: Steve Madden Primpy Heels ($99)
This Via Spiga heel is also getting a ton of great reviews over at Nordstrom (and I'm strangely drawn to the black and white patterned one). I like the walkable heel, (2.5″) and the wide range of sizes (4-12). It's $195, at Nordstrom. Via Spiga Medora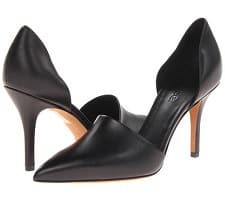 These highly-reviewed heels from Vince are a much more modern look, but also a bit harsher/less leg-lengthening with more traditional styles with a dip in the vamp. (Note that they have a similar lower-heeled version as well; if you prefer Alexander Wang heels, here's a similar style; here's a slightly more affordable version from Paul Green.) They're $375, available in sizes 5-10. Vince Claire Heel
Ferragamo shoes are favorites among the readers for their comfort and quality — several of their more classic pumps are in our Hall of Fame listing above (skinny heel, low heel), so if you're hunting for a trendier block style and you like bows, do consider the Ninna. It's $575, which is definitely splurgey — but it's got a ton of good reviews at Nordstrom (where it's almost sold out) and Zappos. Salvatore Ferragamo Ninna.
Like this feature? Check out other recent installments! Ladies, which are YOUR favorite, most comfortable black pumps?