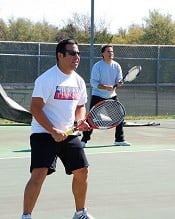 Should you join the office boys' club if you'll be the only woman? What if your male coworkers meet and talk shop outside of work while taking part in an activity — such as tennis or golf — that you don't even like? Reader K, who works outside of the U.S., wonders:
I have a question regarding the 'old boy's club' at work; my workplace is fairly conservative, with only 15% of the workforce women (although the number is increasing in the younger generation), but quite politically correct and thus nothing seriously sexist or misogynist. My male boss, in his mid-50s, has been fantastic to work with, and as a recruit (from a different company, relocating quite a distance), I've been happy with my position and also see potential in the company itself. BUT, after three years, I see that there is a 'boy's club', where they get together and play tennis, have a beer, and get things done. My boss has even suggested that I join the tennis club (playing once a week or so) — but I'll be the only female and really don't like tennis. What would you do?
Tough question, K. We've talked about networking with older men, dealing with sexist coworkers, and whether or not to pick up the tab at lunch with a group of male partners, but not specifically about this topic. I'd ask myself a few questions first:
How long do you plan to stay at the company? If you hope to stay at this company for a while, I'd definitely join the tennis club, at least to give it a try. When in Rome…
Is the industry in general like this? Even if you don't like this particular company, if this is the way that everybody networks, I'd join the tennis club.
Are there other ways to network with the guys after hours other than the tennis club?
So in general, I guess I'm in favor of joining. Here's what I like about the tennis club (although I'll admit I'm picturing an American version of one):  It's brightly lit. Alcohol is optional. Women who work there aren't sex objects. Yes, you might feel obligated to wear a tennis skirt, but that too is optional, and the clothes are otherwise pretty conservative. Compared to some boys' club cultures where guys go to, say, a strip club, or some other dimly-lit place where the focus is alcohol (or drugs) and scantily-clad waitresses, this sounds pretty mundane to me. (And if you stink at tennis, you can always take private lessons on the side to get better.) I'd at least give it a shot and then evaluate the situation with the new information.
Besides, while you note that you'll be the only woman there, a) I assume you mean from your company. If this is how networking is done in your area, wouldn't you like to know the other women ballsy enough to join the men's tennis club? Furthermore, b) change has to start somewhere. You note that your generation has increasing percentages of women in the workplace — think of the women who come after you. When presented with this situation, it'll be easier for them knowing that you are already a member of the club.
I'm curious, ladies — what are your thoughts? Would you join a tennis club or other after-hours extracurricular you didn't enjoy — in order to "keep up" with the guys you work with and stay in the loop?
(Pictured: ACA, originally uploaded to Flickr by Tré Hinojosa.) 
—————
N.B. PLEASE KEEP YOUR COMMENTS ON TOPIC; threadjacks will be deleted at our sole discretion and convenience. These substantive posts are intended to be a source of community comment on a particular topic, which readers can browse through without having to sift out a lot of unrelated comments. And so, although of course I highly value all comments by my readers, I'm going ask you to please respect some boundaries on substantive posts like this one. Thank you for your understanding!