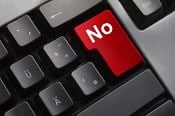 Your office is planning an athletic event, and you want to stay far, far away. Even if you're worried about feeling awkward, should you go anyway to take advantage of the networking opportunities? How can you say NO to work-related sporting events, like golf and tennis outings, and what are you missing out on if you do? Reader B wonders…
Your recent post about dressing for summer events led me to an older post about how to dress as a golf newbie… and boy, the comments struck a chord with me. Or maybe a nerve. I'd love to see a post, and more discussion, on how to deal with outings of all types — particularly when they're for expensive and time-consuming sports that you don't play and don't want to pick up.

A lesson (or even a few lessons) are absolutely NOT enough to get me through a golf scramble. Can I swing and miss 18 times while joking gracefully? Can I pull off an outright refusal? Is it a bad idea to drive the beer cart (this always sounds like it should come with a costume), or just show up for drinks/dinner afterwards? And what do I do after 17 miserable holes, when my division manager is standing at the 18th with his arms folded to judge my golf game?

For reference, I'm in engineering, not law, with 15+ years of experience.
Interesting question, Reader B! In the past, Kat has recommended participating in athletic work events, even if you don't think your skills are so hot, but we thought we'd get another opinion as well. We talked to Women on Course founder Donna Hoffman (who also advised us on our recent post on proper golf wear) to get her take on this situation. "Golf is so much more than getting the ball in the hole," she says. "There are so many more benefits" — including the camaraderie, and the opportunity to build relationships.
Here's what Hoffman recommends for Reader B: