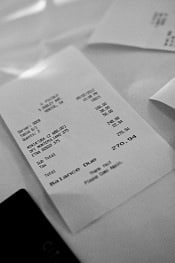 If you're out to lunch with partners, should you EVER pick up the tab? Oh, and also: you're the youngest person present and the only woman. We've talked about summer associates paying for lunch, but Reader B has a slightly different situation. Here's her question:
I work in a small firm (12 attorneys) with a pretty casual atmosphere. There are 5 or so partners ("the guys") and I am asked off and on to go to lunch with them; I am usually the only associate/only female asked to go. The guys are all about my dad's age and can be somewhat old fashioned about manners with women. Most often we all just split the check, but from time to time one of the guys picks it up for the group. The lunches are casual and inexpensive. I am capable and fine with picking up the check for the group once in a while, but I'm not sure if that would come across awkwardly. What would you/the Corporette readers do? I think these lunches are good face time with the partners and are generally fun, I don't want to be perceived as dead weight because I never reciprocate picking up the group check, but I also don't want to create an awkward situation.
Here's my $.02: there is no way these guys are going to let her pick up the tab because she's the "kid" of the group — I don't think it has anything to do with her being female. That isn't to say Reader B shouldn't try it, once — if she suggested the restaurant, or if she's just had a nice bonus check, or if she's celebrating something big (her first hearing or something) — go ahead, offer to pay in that magnaminous-I'm having such a great time and I want to treat you guys!-way — not an it's-my-turn-dear-god-someone-help-me-figure-out-tip-math serious way.
Look at it this way, Reader B: whoever picks up the bill is probably expensing the lunch anyway (or he's billing it to a client if you guys talked about the case at lunch) — unless you feel comfortable doing that, I'd skip it.
Psst: check out our previous posts on what not to eat at a business lunch, and business lunch etiquette. 
Readers, what are your thoughts — would you ever pay for lunch with a group of partners or bosses?
(Pictured: The Receipt, originally uploaded to Flickr by vxla.)
—————
N.B. These substantive posts are intended to be a source of community comment on a particular topic, which readers can browse through without having to sift out a lot of unrelated comments. And so, although of course we highly value all comments by our readers, we're going to ask you to please keep your comments on topic; threadjacks will be deleted at our sole discretion and convenience. Thank you for your understanding!