Above, some of our favorite options for washable suits for women: one / two / three / four
Update: We recognized how difficult it was for the readers to find machine-washable blazers, dresses, pants and more, so we started a whole series on machine washable workwear on our sister blog for working moms. We've also done a roundup of the best general brands for washable workwear.
Washable blazers: are they worth buying to avoid making frequent trips to the dry cleaner? How can you keep your non-washable blazers fresh and clean?
Reader S wonders:
Would you please consider doing a piece on washable blazers? (The goal is to avoid dry cleaning costs). Thanks.
We've talked about how to cool down quickly, whether short-sleeved suits are appropriate, and the best washable trousers — but not this. I'm really curious to hear what the readers say here, because for my $.02, I would not spend time or money looking for blazers that are machine washable. You may occasionally FIND a great blazer that is machine washable, but IMHO, I'd say you're doing something wrong if you NEED a blazer that is machine washable. (Pictured: Majestic Linen & Silk Blazer, $305 at Nordstrom.)
Some thoughts:
a) If you're sweating so profusely, so often in your blazers… where are you? I suppose in very limited situations (a small courthouse without air conditioning, maybe?) you have to just keep your blazer on and sweat, but in most situations I've encountered (e.g., hot subway trains and commutes) it's fine to take off your blazer and carry it. Even for really hot networking events (for example, an event held outdoors), I'd recommend you make your first circuit of the room wearing a blazer, but then — like many people seem to do at these events — find a table where you can sit down for a spell, remove your blazer and put it on the chair, and then go back to networking.
Psst: these are some interesting products to help you cool down or stay cool on your commute…

b) I've said it before, I'll say it again: one of my favorite tops to wear under blazers is a sleeved t-shirt. The t-shirt should be easy to wash, and the sleeves should be long enough to provide a bit of a physical barrier between your underarms and your blazer. A shell does not provide that kind of protection, and please, please do not wear only a camisole beneath your blazers. (You should always be able to take off your blazers, and a camisole is underwear only.)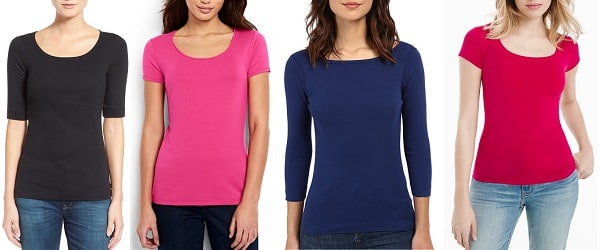 Above, great tees for layering: black / pink / blue / red.
c) If you're still having problems, a variety of products exist — Amazon alone has many available if you look up "underarm guards."
Readers: if you wear washable blazers, have you found any that you would recommend?
Social media images via Stencil.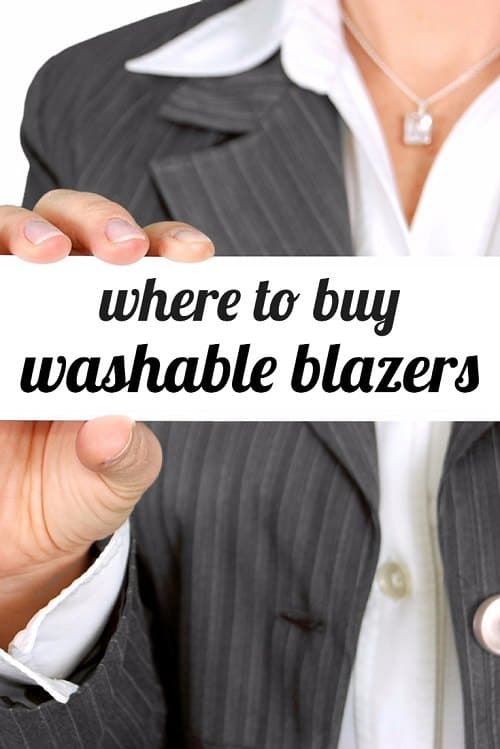 This post was originally written in 2014 but substantially updated in 2020, except where otherwise noted.