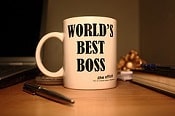 Should you manage men differently than women? We've talked about becoming a boss, delegating work, motivating a lazy secretary, and whether you should be friends with staffers — but not this particular topic. I'm honored to welcome Anna Runyan of Classy Career Girl to the blog — a new mama herself (congrats!), Anna is a leadership coach for ambitious women, and the author of the new book, 
The Professional Woman's Guide to Managing Men
.
Welcome, Anna! – Kat. (Pictured: World's Best Boss, originally uploaded to Flickr by Kumar Appaiah.)
As an overachieving chick, you are bound to have the challenge of managing men at work. You might be worried about coming across as too strong, aggressive, or bitchy. You might not be confident in yourself because you don't really understand men. You might be uncomfortable around the men you work with. I know I was. For eight years I worked in a male-dominated work environment and I quickly found out that understanding men was the key to getting promoted. Once I learned how to manage both genders successfully, I finally started getting ahead. Here are the keys I found to successfully manage men at work:
Stop being a perfectionist. Striving for perfection is one of those things that you think would be a great strength to have as a female leader, but it can be especially negative when managing men who don't have the same concern for perfection. We are all imperfect and trying to get to perfect can come with a lot of stress. Also, perfection kills creativity, which is very important when managing a team.
Don't try to be someone you aren't. Your success as a manager depends on how confidently and comfortably you lead. You want to be authentic and never want to act like someone you aren't. Be proud of your female leadership strengths and don't try to manage like a man. Female leaders have many great leadership strengths to be proud of such as collaboration, intuition, and empathy.
Get straight to the point. Cutting to the chase quickly is really important when managing men. One of the biggest mistakes a female manager can make is to communicate with a man the same way she would communicate with a woman. When you are speaking to a male employee, keep it short and sweet. If you can reduce the time you spend in the conversation and get to the point as quickly as possible, the more success you will have.
Don't be afraid to assert yourself. Assertiveness is an easy way to quickly gain respect from the men on your team. Men respect a woman who speaks her mind and challenges others. Men want to hear your voice because you have different strengths and a different viewpoint to the team. Men also expect interruptions because that is what they are used to when they are around other men.
Embrace the competition. It's no secret that men like to compete. You should create opportunities for your employees to cooperatively compete with each other even if your current work environment is non-competitive. Competition can help men excel beyond what they or even you thought possible. Competing with them will often lead to higher-quality work and it will build trust at the same time.
Readers, what do you think — have you had issues or challenges managing men? What have been your keys to success?
—————
N.B. PLEASE KEEP YOUR COMMENTS ON TOPIC; threadjacks will be deleted at our sole discretion and convenience. These substantive posts are intended to be a source of community comment on a particular topic, which readers can browse through without having to sift out a lot of unrelated comments. And so, although of course I highly value all comments by my readers, I'm going ask you to please respect some boundaries on substantive posts like this one. Thank you for your understanding!