Sure, we all know what wardrobe essentials for work professional women are supposed to have in their closets, but if you're buying one for the first time or replacing one you've worn into the ground, it can be a pain to find exactly the right incarnation in stores. In "The Hunt," we search the stores for a basic item that every woman should have.
Now that the calendar says it's officially fall, we're supposed to be easing into sweater season — cozy merino wool sweaters, for example — but in most parts of the country, temperatures are in the 80s and 90s. Let's put that aside for now (it helps if you're sitting in air conditioning) and start picturing the more typical autumn weather that will have you reaching for your boots, jackets … and merino wool sweaters. We've mentioned the many advantages of merino before: It's very warm but also lightweight (often light enough to wear beyond fall and winter), and it holds its shape much better than cotton. It's not quite as luxuriously soft as cashmere, but it tends to be more durable and is often machine washable. (Here are some tips on washing merino wool.) If you're on the hunt for merino wool sweaters for work, now is a good time — there are a lot of sales out there, some offering deep discounts. Which brands are your favorite for merino wool sweaters? Do you prefer merino to cashmere for warmth? Which brands have you found to be the best at holding up to washing and/or dry cleaning — and do you typically machine wash, hand wash, or dry clean your merino wool sweaters? Anything else you like merino for, like socks, tights, skirts, long underwear, shells for under jackets? 
(Psst: Here's our last roundup on the best affordable cashmere for work. And, er, our post on the best summer work clothes might be helpful today as well.) 
Here are some of the best merino wool sweaters for work available now:
Hall of Famers: Uniqlo, Banana Republic, Tory Burch, Lord & Taylor, Lands' End
Plus-size merino sweaters*: Eileen Fisher, Lafayette 148 New York, Nordstrom Signature, Lands' End, Pendleton, Lord & Taylor, Talbots
Petite merino sweaters: Lands' End, Pendleton, Talbots (scoopneck), Talbots (button-cuff), Lord & Taylor (crewneck), Lord & Taylor (turtleneck)
Cusp sizes in merino sweaters: Talbots (scoopneck), Talbots (button-cuff), Eileen Fisher (cardigan), Eileen Fisher (turtleneck), Tory Burch (See our entire guide to workwear for size 16!)
*If you are interested in plus-size workwear, please sign up for CorporettePlus, our newsletter! Signing up helps us gauge interest in the project, and we promise not to blast your email more than once a week at most. (Right now it's more like once a month.)
Uniqlo has a large variety of merino wool online: V-necks, turtlenecks, boatnecks, crewnecks, cardigans, and half-sleeve styles. Their "100% washable, high-grade merino wool" is definitely a reader favorite. It's designed to resist pilling, and it gets very good reviews (for the one pictured, 20 out of 22 are 5-star), especially when you consider the very affordable prices. Everything is between $19.90 and $39.90 — sometimes you can find sale items for $9.90 or even $1.90 — and the size range is wider than that of similar stores: XXS–XXL. This style is $29.90 and comes in 12 colors, including the off white pictured, as well as black, gray, red, purple, a forest green, mustard yellow, and more. Extra Fine Merino Crew Neck Sweater
Readers have frequently recommended Halogen for affordable but good-quality merino wool sweaters. Already reasonably priced at Nordstrom, Halogen has even better deals at Nordstrom Rack, of course. This V-neck banded cardigan has a split hem, which seems a bit unusual for a cardigan, but I think it works. (The front and back are the same length.) While it's described as a boyfriend cardigan, it doesn't look shapeless and/or extra long like some are. Note that although merino wool is often marked as machine wash or dry clean, this one is specifically labeled "dry clean only." This was originally available in sizes XS-XL, but all the extra-smalls have sold out. It also originally had 14 (!) color choices and now only has four — but with a price of $36 (on sale from $78), it's definitely worth taking a look to see if there's something in stock that catches your eye. There are a few classic colors left, including black and the pictured navy. Halogen Lightweight Merino Wool V-Neck Cardigan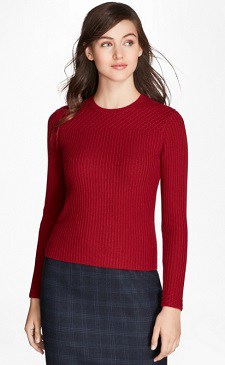 Readers have praised Brooks Brothers' merino wool sweaters in the past — including styles from their Red Fleece line. This one (from the regular collection, not Red Fleece) has an interesting texture without being a chunky knit or seeming too casual for work. I like the details of the lattice stitch around the neck and shoulders and the cuffs — it elevates it a bit from the average ribbed sweater. It's machine washable, too ("incredibly easy to care for," boasts BB). The sweater comes in this classic red as well as basic black and is available in sizes XS–XL. It's $118, and right now you can buy 2 and get the 3rd free. Brooks Brothers Mixed-Stitch Merino Wool Sweater
The online description for this Theory sweater says it has a "lithe, figure-skimming fit," and it certainly looks that way from the photos. But hey, Nordstorm has free returns and free shipping, so you've really got nothing to lose if it ends up being too tight for your tastes. As with the Brooks Brothers sweater above, the rib-knit here isn't too casual or too chunky of a knit. The sweater comes in four colors — the pictured "terrain" as well as garnet, deep navy, and black — and it's available in sizes petite–L. If you'd like a wider rib and/or a brighter color, try Theory's wide-ribbed mock neck, also at Nordstrom, which comes in electric pink and tangerine as well as more subdued colors like dark brown. It's $265, while the pictured sweater is $200. Theory 'Mirzi' Rib Knit Merino Wool Sweater
Lafayette 148 New York is known for being pretty size-inclusive — especially for a higher-end brand — and so it's not surprising that this bauteau-neck sweater (which is exclusive to Neiman Marcus) has an impressively wide size range of XS–XXL. It comes in the gray pictured and also in a wine color that, appropriately enough, is called "shiraz." It seems to be nicely fitted without being too tight, and (as much as you can tell from a product photo), it looks incredibly soft. (It actually looks like cashmere rather than merino.) The neckline is wide but appears to have enough coverage to stop bra straps from peeking out. The sweater is $328 at Neiman Marcus. Lafayette 148 New York Ribbed Bateau-Neck Merino Wool Sweater
How about you, readers: Which do you think are the best merino wool sweaters for work? Are you getting any wear out of them thus far this season, or has it been too hot where you live?
This post contains affiliate links and Corporette® may earn commissions for purchases made through links in this post. For more details see here. Thank you so much for your support!