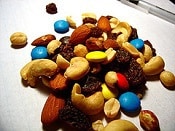 Reader S has a business etiquette question about eating during business meetings…
I have an business etiquette question. I have low blood sugar and have to eat every couple of hours. Is it rude to eat something that can't be shared, like a piece of fruit, during a meeting? In today's example, we didn't have a break, and the senior person passed around a tin of cookies, so I assumed it was OK to snack. Otherwise I wouldn't be able to pay attention….
Hmmn. I'm a big believer in the importance of keeping your blood sugar level steady for energy, brain power, and mood purposes, but I'm not sure about Reader S's question.   I guess the answer here depends on the kind of meeting. If everyone is eating (or it's a BYO kind of lunch meeting), I think its fine to bring something of your own, whether it's shareable or not. I would, however, pay mind to whether or not your snack might be disruptive — if it is loud (crunchy apple? crinkly wrapper?), smelly, or involved (such as if you need to set up a staging area to spread cheese or peanut butter on top of something), I would strongly suggest you reconsider bringing it to a meeting, even if people are eating.  (Pictured: Food for the trail, originally uploaded to Flickr by trekkyandy.)
If, however, people are not generally eating, then you have fewer options. First, you could rely on liquid calories — take your sugar with coffee and cream, so to speak. (Or just fill your cup full of milk or soy milk when everyone else gets coffee.) The second best option would be to excuse yourself to the bathroom and eat a few quick bites of something filling, preferably in the "lounge" area of the bathroom that a lot of offices have (and not in, you know, the actual stall). My list of quick and stashable bites would include things like a handful of almonds or trail mix, a banana, or even an energy bar.
All this, of course, presumes that it is a Long Meeting (2-3 hours) — if it is less than that I would really suggest you bend your eating schedule around the meeting.  If it's a Very Long Meeting (3+ hours), of course, the planners will hopefully/probably build bathroom and snack breaks into the meeting.  (If you are one of the planners for the meeting, implement one!)  If you regularly have Long Meetings or Very Long Meetings with the same players, you might just take a moment to explain to them that you need to eat every few hours and see how they react.  (If this were me, though, I would still probably excuse myself when I needed to eat, unless I was assured it was ok to eat anyway.)
Readers, what are your thoughts on munching during meetings?