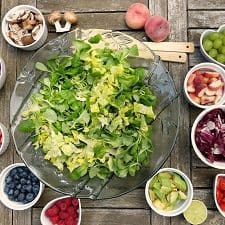 2018 Update: We still stand by this discussion about what to eat when you have no time to eat — you may also want to check out our latest discussion of energy foods for work, as well as our recent roundup of environmentally-friendly and stylish office lunch containers if you're bringing lunch to work! 
Let's start by saying this:  eating is a Good.  Food is fuel for your brain and body, it's yummy, and the act of eating gives you a nice break during the day.  There are metabolic benefits to eating small meals very often, and your subordinates will appreciate the consistent mood that comes from frequent meals.
However, sometimes just finding the time to eat can be very difficult — just getting downstairs to the deli to grab something and go can be taxing, not to mention unrewarding after realizing you've paid $10 for a sandwich that wasn't fresh or healthy and spent 30 minutes of your time between elevator rides and cashier's lines.
That's why we've been a big fan of bringing food to the office. If you're trapped at your desk, it's easier to rationalize a 5-minute break to eat the food you've already brought. It's also easier to lock yourself into a healthy choice — the all-too-often thought of "well, I'll just treat myself because I'm so busy" never ends well — and it's ultimately better for the budget as well.
While there are some who have made an art form out of bringing a beautifully packed lunch, we can only aspire to be in that group for the moment.  So we've come to specialize in what we'll call the grab-and-go snack form of lunching. While none of them would normally be considered a meal, they take far less time to prepare or eat than a proper lunch, and if you eat 2 or 3 of them throughout the day you're never hungry.  So, without further ado, our list of food staples for the busy working girl:
– Yogurt — we strive for brands/lines that have no more than 100 calories per cup. If you can get a good deal, it sometimes pays to get the big containers (4 cups or so) of yogurt — bring it to the office and use a coffee cup to portion it out when you're ready to eat it. We like mixing our yogurt with Fiber One — the cereal adds fiber, which boosts the feeling of fullness and helps you feel like you're eating something substantive. It's a great way to get your calcium in, also (but note that the calcium percentages vary widely among the brands, so check them out before you buy).
– Hard-boiled eggs. (Yes, this one's cheating a bit — it requires a bit of prep work at home in order to make the hard-boiled eggs.)  These suckers are great sources of lean protein — at least the whites are.  The yolks do seem to make it seem more filling, though, and last time we checked we thought the fat in the yolks was a healthy fat.  Still, for calories and cholesterol sake, we tend to eat one whole egg and two egg whites if we're considering these a snack.  Be sure to a) check your teeth before venturing into the world again, and b) get the remnants out of your office (even if it's just to the office kitchen garbage) as soon as possible.  We tend to bring only what we intend to eat to the office — i.e., take 3 hard-boiled eggs from the fridge, wrap them in a napkin, and stick in our purse before heading out in the morning.
– Sandwich fixings (particularly if the idea of assembling a sandwich in the morning stresses you out).  Just grab about six slices of whatever low-cal bread you have on hand (or whatever's easiest), and a packet of low-fat cheese to the office — voila, sandwiches for days. You can also bring a package of deli meat to the office — turkey or ham both tend to be low in fat — but be sure you're not overdoing it on preservatives and sodium. (The other downside to deli meat is that it tends to get gross a day or two after you open it, which means you have to eat the same meal at least twice.) If you have reduced-fat peanut butter or almond butter sitting around, you can also add that to the bread — but watch your portions. Products like Better 'n Peanut Butter or PB2 might be particularly worth looking into if you're a little bit too much of a big fan of the peanut butter — they're lower in calories.  Canned tuna fish or salmon can be something else great — we try to collect low-fat mayonnaise packets when we see them (Panera is our usual source) and save them, but if in doubt we think both tuna and salmon taste good when mixed with mustard.  Try to avoid eating tuna too often — the mercury content is bad for women (or perhaps people? chime in if you're more up on this than we are) and, if buying canned salmon for the first time, be sure to read the label carefully — sometimes skin and/or bones are involved.  These can be eaten in a coffee cup or on bread; either way, get the remnants out of your office as soon as possible.  Sardines are something we've never tried to prepare ourselves, but we've read great things about them — if anyone has suggestions on eating sardines in a no-fuss way, do tell.
– String cheese or other easy-to-eat forms of low-calorie cheese.  Mini Babybels, a Laughing Cow wedge, or, if you have time to pre-slice some 50- or 75-percent fat free Cabot's cheese — they taste good, provide calcium and protein, and satiate.
– Oatmeal — This can be a great and filling snack, and feels more indulgent than the 130 calories or so that you usually consume with it.  If you don't have access to a microwave — try adding hot water (meant for tea) to the oatmeal; almost all brands, including plain quick-cooking oats, become oatmeal after a few minutes.  (With plain oatmeal, try adding a sugar-free packet of hot cocoa to it, or some raisins and cinnamon.)
– Raw almonds. They're a superfood!  We prefer them raw because there's no oil involved in a roasting process — and, c'mon, a raw almond is far less tasty than a wasabi-flavored roasted almond (or any of the delicious new flavors they're selling).  Count out 12 whole pieces or so and call it a snack.
– Vitatops
. We just ordered these again for the first time in a long while, and they're just as good as we remember — filling, tasty, and yes, only 100 calories.  Sure, we could do a homemade version of them (we've taken a muffin mix and added powdered Fiber One to it and seem to recall it being similar) but sometimes it's just easier to order them.  Even though they have to be frozen (no preservatives), if you don't have access to a microwave you can bring them to room temperature or behind by placing one on top of a cup of tea or coffee.
– Lattes. Even if you don't have time to run to your local Starbucks, get some coffee from the office kitchen, and add skim milk until the coffee and milk are roughly 50/50.  It's a great liquid snack that boosts your energy, adds calcium to your diet, and wards off hunger.
– Soups. We had a lot of ladies write in to sing the praises of soups — we completely agree!  (If you don't have ready access to a microwave at your office, try bringing a thermos — some of them are the perfect size for soup.)  (Including Thermos Nissan 16-Ounce Leak-Proof Food Jar
, pictured, available at Amazon for $25.)  If you have time to cook your own, go for it –readers recommended recipe sites like Food Gawker and Taste Spotting — but if you need to buy prepared soup, so be it.  After all, $2 for a can of soup (or less, if you're lucky) is a great deal compared to spending $6 or more on a cup of soup at the local Au Bon Pain.  (If you're eating canned soup uber-regularly, you might want to opt for organic soups — if only to avoid preservatives and such.)  Manhattan clam chowder is usually a good, low-cal fix (our $.02: avoid New England clam chowder in a can at all costs); bean and lentil-based soups also tend to taste pretty good for the calories you're consuming.  Chicken noodle soup is almost always a good bet, calorie-wise.  We've recently bought a few of the soups in Progresso's High Fiber line and were impressed with the taste.
– Salads can be a bit messy and complex for us — after all, it assumes we've had time to go to the grocery store and select fresh greens and other ingredients, and to prepare them for inclusion — rinsing, chopping, etc. — but obviously they are great for diet and health reasons.  Reader C e-mailed us, noting that she brought salads the entire year she clerked.
I just bought a clamshell of lettuce, a decent dressing, and a bag of pre-cooked shrimp.  To make the lunch I tossed lettuce in a gladware container, then put some shrimp in a ziplock baggie with some marinade ingredients.  I would do an Asian style with ground ginger, red pepper, soy sauce, and pepper, or scampi with lemon juice, olive oil, dried basil, and garlic.  I either covered the lettuce in dressing or put it in a separate little container.  Then at lunch just microwave the shrimp and toss them into the salad.  It's filling, cheap, and easy.
Perfect!  Personally, when we have time to spare we tend to hit the local salad place and get the same thing:  baby spinach, crumbled feta, tomatoes, and a few black olives, tossed with balsamic vinegar.  Very low-calorie, high in antioxidants and calcium — when we want to add more protein we tend to add grilled shrimp.
– Prepared meals. We're not big fans of the frozen meal — they're filled with preservatives, and they're not as filling as eating 2 or 3 of the snacks above.  (Also, they require a trip to the microwave.)  Still, for dietary restrictions they may be the easiest way to go:  reader A wrote in to rave about the Gardein line for vegans, noting that each is less than 200 calories.  A tip:  if the prepared lunch is for you, you may want to try to boost the nutritional value of it by adding vegetables — most dinners are improved by adding a can of green beans or 1/2 a bag of frozen broccoli.  (We'll admit, though, we love Amy's Tofu Vegetable Lasagna and most any Lean Pocket — but they're a rare treat for lunch.)
All right, enough of our lunch choices — what are your best tips for what to eat when you have no time to eat? How do you eat to maintain your energy throughout the day with meals and snacks? 
This post contains affiliate links and Corporette® may earn commissions for purchases made through links in this post. For more details see here. Thank you so much for your support!
Current images via Stencil. Original image (2010): soup season, originally uploaded to Flickr by looseends.