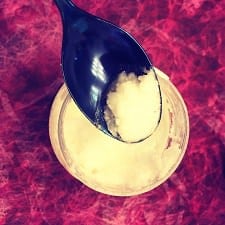 We've talked a lot about drugstore beauty items and how your beauty routine changes in the winter, but more and more my winter beauty routine is involving "natural" beauty things — supermarket, even! — and so I thought I'd round up a few I like to kick off the discussion. Find out below how I'm using apple cider vinegar, coconut oil, and castor oil in my beauty routine. Ladies, have you experimented with natural beauty things? How did you like them compared to fancier beauty products — is anything a definite in your routine? 
Apple Cider Vinegar – Hair – Clarifying and Defrizzing. I use this year-round for my hair, to be honest, but I may be more likely to put gunk in my hair in the winter and thus more likely to need to use this. As I understand it, ACV helps clarify stuff from your hair — and it also helps close the cuticle shaft, which means it reduces frizz. The first time I used ACV in the shower it was kind of crazy — I shampooed my hair, sprayed a 50/50 mixture of ACV and water on my hair, let it sit for a minute, and as I was rinsing it out it was like the texture and thickness of my hair and had changed from just a few minutes before. If I grabbed a handful of hair there was a lot less bulk than just a minute prior, and it felt more silky, too. I should mention here that most people talk about doing this with unfiltered ACV, but the first time I tried it I only had regular ACV on hand, so that's what I used. (Here are a few articles to get you started on further reading: CurlyNikki, Alure, FutureDerm.)
Coconut Oil – Hair – Moisturizing. The older I get, the drier I get, and while I've had some fun with fancy hair masks for winter over the years, I'm more likely to grab my coconut oil first. I've read tutorials that include coating your hair completely in 2″ sections, then sitting with a hot towel on your head for an hour. I did that once but am more likely to just start grabbing handfuls of coconut oil, rubbing until it's more liquidy/spreadable, then grabbing whatever hair I can and putting it up in a claw clip while I do errands for 15 minutes. I feel like it's just as useful as other hair masks I've used as far as a "noticeable difference" goes, and I like the smell, which is an overwhelming smell of a coconut dessert. I usually combine this with an ACV rinse in the shower. (Further reading: Byrdie, Well + Good, WellnessMama, The Fashion Spot.)
Coconut Oil – Face – Moisturizing. Some people take their makeup off with coconut oil, and I can't imagine that — but if my face feels a bit dry, I will slather coconut oil on my face for a minute before I step in the shower. It is very, very moisturizing and oily, but because I only keep it on for a minute, it's manageable. I like this because it only takes a bit of time and I notice an immediate difference afterward. (Further reading: Bustle, Fashionista, Well + Good.)
Olive Oil – Hair – Moisturizing. I've used olive oil less on my hair than I've used coconut oil — in my experience, olive oil is FAR greasier. I use it by getting a weeeeee bit of olive oil on my hands and running through the ends of my hair, leaving it on for about 5-15 minutes before a shower. I only do the ends of my hair, not my scalp unless it feels parched/itchy. (Further reading: FutureDerm, LiveStrong. Here's an article from HealthSite on which olive oil to use for your hair.)
Castor Oil – Hands – Moisturizing. To be honest, this is something I haven't done in years, but I'm considering doing it this winter! My grandmother did this every day on both her hands and her face, and even at the end of her life people remarked on what beautiful, supple skin she had. Be warned: castor oil is a laxative, so don't store it where kids or animals might be tempted to get into it. But: this stuff is crazy moisturizing for skin, but is less goopy than coconut oil and (can be) cheaper than olive oil. (Further reading: Jezebel.)
My cousin was just telling me I should try tea tree oil on my hair this winter… hmmmmn. Ladies, let's hear from you — what natural/supermarket products have you integrated into your beauty routines? What did you like, what was a fail — and did anything replace fancier beauty products? 
Picture: Katfry LLC, all rights reserved.