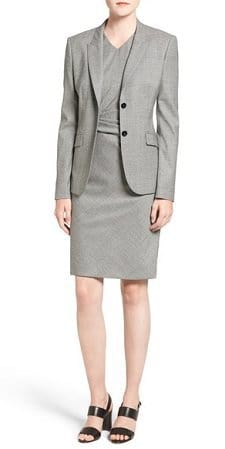 For busy working women, the suit is often the easiest outfit to throw on in the morning. In general, this feature is not about interview suits for women, which should be as classic and basic as you get — instead, this feature is about the slightly different suit that is fashionable, yet professional.
Oooh: I love this light gray suiting from Hugo Boss.  The waist detail on the dress is pretty — and while some details like this can be fussy, this one just looks cool. I also like that it comes with full-length pants (there are so many wintry suits with ankle pants right now! How are you guys wearing them — casual days only? Warm winter days only? With booties?).  Interestingly, readers just had an interesting discussion on what color of gray suits you can wear to court — and of course we've discussed in general whether women lawyers can wear interesting suits to court.
Pictured: The jacket is $595, and the dress is $595. If you're looking for a plus-size option, I like this gray suit.