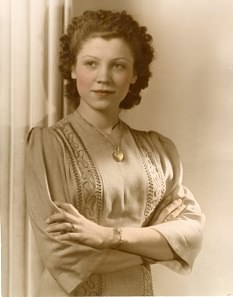 I just wanted to say a quick RIP for my last remaining grandparent, Mary Krusiensky (Maria Borsch Krusiensky), who passed away earlier this week at the ripe old age of 90.
Gram was always one of the strongest women in my life — and one of the most stylish. She was born in Lamira, Ohio in 1921, the first of four children. When she was 10, her mother died, and Gram became the de facto mother to all of her siblings. In recent years, her thoughts had turned a lot to her youth, and she would regale the grandkids with stories such as crossing the Ohio River in candlelit boats to see movies just over the state border. She met my grandfather Leo in high school, I believe, where he was a local football star — and they married, in secret, on July 4 when she was 20, and moved north to Cleveland. They had three children, and stayed married for 60+ years (he passed away in 2005).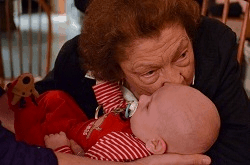 She was always proud of the fact that she was a working woman, working in downtown Cleveland in the claims department for the Veterans' Administration. In particular, I'll remember her style — she was a fan of colorful pantsuits, gold jewelry, and her trademark red hair. Even at the end, she could not tolerate even one gray hair showing — and she refused to leave the house without makeup, good shoes, matching purse and her "dress clothes."
She leaves behind two twin daughters, her beloved son's widow, six grandchildren, and one great-grandson. Gram, you will be missed.