We've talked a lot about office decor on this blog — how to decorate your desk, how to liven up your office walls, what the logistics are for decorating your office, and how to know when your office decor is too nice — but we've never had a true expert weigh in. So today I'm thrilled to welcome Sayeh Pezeshki, an office stylist who founded the blog The Office Stylist and created a stylish LA coworking space. She was nice enough to round up her top five crimes in office decor for us — take it away, Sayeh! 

I always read or hear about fashion crimes (can you believe she wore that!?) but you rarely, if ever, come across office décor crimes. It doesn't mean it doesn't happen, and sadly, it was hard to limit this post to just five. When it comes to styling and designing your workspace, there are things you should NEVER do, like wearing white pants after Labor Day…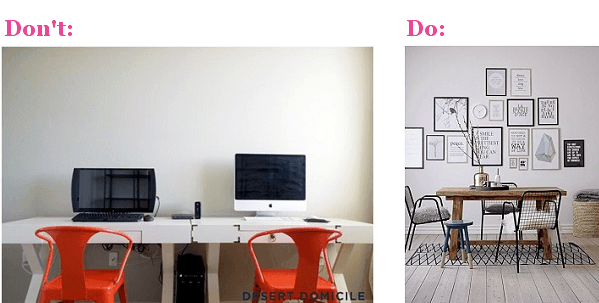 1. Blank Walls
It's your office—not solitary confinement! You should feel excited and energized in your work space, not like a prisoner. Deck out your walls with fun prints, wallpaper, or paint colors. Anything is better than plain, white, boring office walls.
"Don't" image via Desert Domicile, "Do" image via My Scandinavian Home.
2. Picking an Ugly Desk or Chair
Your desk/chair is where you spend the majority of the time in your office, right? That's why I'll never understand people who settle for anything less than spectacular. It's the first thing you see when you walk in, the entire focal point of your office too. Make sure that your work station is not only easy on your back, but easy on the eyes.
3. Being Matchy-Matchy
Your space should be just what it sounds like: yours. Don't settle for something straight out of a catalog. Mix patterns, pieces, and styles to create a workspace that is unique to you.
4. Getting Your Back Against the Wall
Here's a crime many decorating newbies fall for: don't put all your furniture against a wall! It will make your space seem smaller than it actually is. Spread your chairs, desk, tables around the room, and you will be surprised at how much more open it instantly feels. Nothing is worse than a bed smashed into the corner of a room or a desk that feels like its stuffed away in a closet.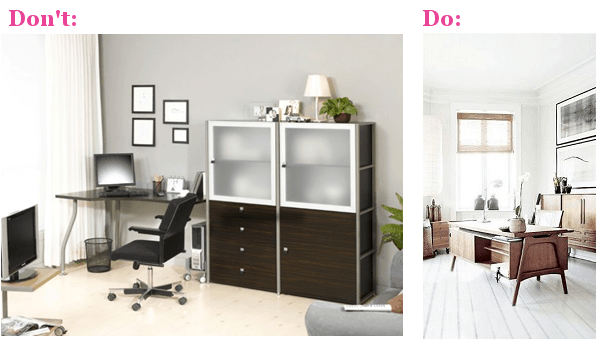 "DON'T" image via Claffisica, "do" image via Baobab Interiors.
5. Office Hoarding
While many people may not appear at first glance to be a hoarder, hoarding comes in many forms. Décor hoarding looks like holding onto pieces that are broken or ugly but serve a purpose, or simply allowing a bunch of clutter to take over your space. Do some spring/summer cleaning and stop office hoarding in its tracks.
What are the worst office crimes you've seen? Tell me below in the comments!
LA-area readers: Check out WORK. by The Office Stylist, LA's Most Stylish Co-Working space.
—————
* As always, this guest poster has been invited by Kat to post on a subject of interest to the community. We value having different and diverse voices here, and indeed part of the benefit of guest bloggers is broadening the dialog beyond Kat's own views. To that end, please note that opinions expressed by guest bloggers, like opinions expressed in comments, do not necessarily reflect the opinions of Kat, Katfry LLC, or any of our sponsors or other contributors.
N.B. PLEASE KEEP YOUR COMMENTS ON TOPIC; threadjacks will be deleted at our sole discretion and convenience. These substantive posts are intended to be a source of community comment on a particular topic, which readers can browse through without having to sift out a lot of unrelated comments. And so, although of course I highly value all comments by my readers, I'm going ask you to please respect some boundaries on substantive posts like this one. Thank you for your understanding!