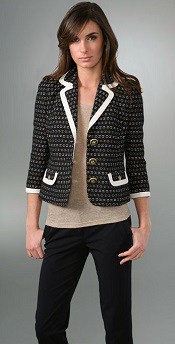 2014 Update: We still think this is a fascinating discussion on whether an untucked shirt with jacket is a polished look for work — but you may also want to check out our discussion on when to tuck your shirt in.
We nearly posted this jacket at left for our TPS of the day, until we noticed the hideous buttons (seriously, they're hids; check 'em out). But it raised another question for us: how doable is this look for the office? Namely, the cropped jacket/cardigan with the untucked/tunic/long tank. There are a variety of looks possible here — the too-short dress worn with pants, the blousy tunic, an untucked blouse, the fitted tank/sweater that happens to hit past the hips — as well as shrunken blazers, shrugs,
For our $.02: we've kind of always presumed it to be completely acceptable for a "business as usual" day — not reserved for casual Fridays, but not the outfit to sport the day you meet the new CEO. The look is modern — people really weren't doing this, say, 20 years ago — yet old at the same time (we seem to recall a fairly iconic image of Coco Chanel sporting a similar look). We'd only wear the look as separates — say gray pinstriped slacks, a purple longish tunic, and perhaps a navy cropped jacket or sweater.
We normally do this sort of thing as a poll, but we thought we'd try an open thread today — please weigh in and let us know what your thoughts are on the look being acceptable or not for the office. Are we wrong? Is this look not doable for the office? Are only some variations of the look doable for the office (blazer-like cardigan or shrunken jacket yes, but shrug no? fitted tank yes, but too-long dress no?) (Or, do you only wear cropped jackets with dresses?)