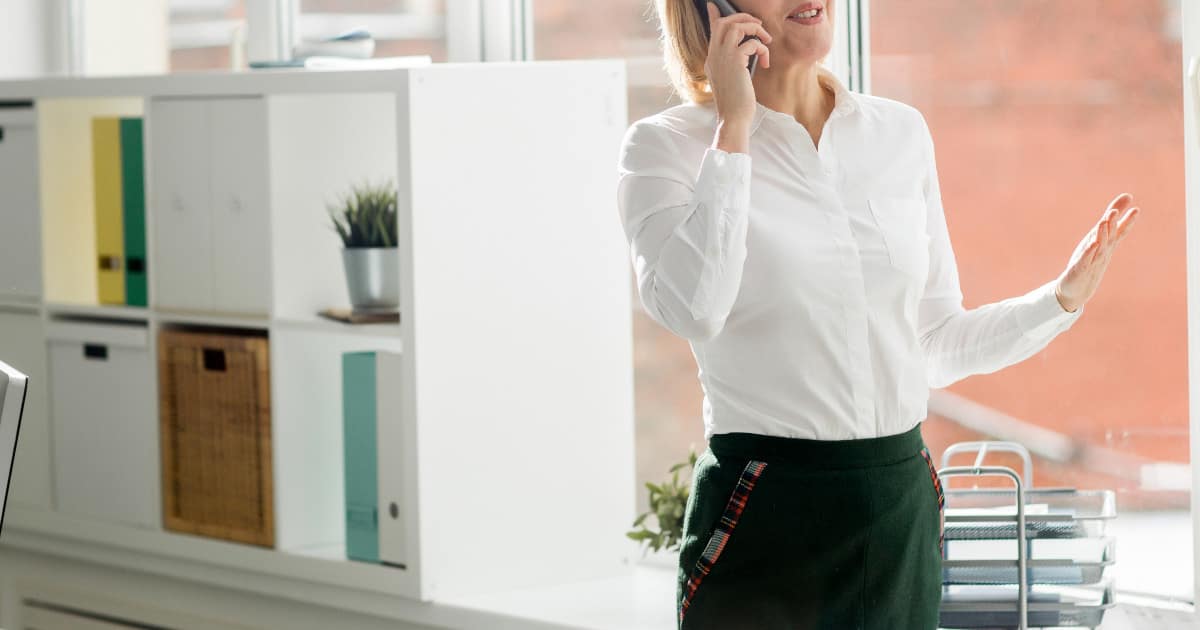 2018 Update: We still stand by this advice on when to tuck your blouse for work, and we've updated links below. You may also want to check out our new four-week outfit challenge!
We haven't talked about whether a professional must tuck her shirt in YEARS, and not one but two readers wonder when to tuck your blouse … so let's discuss. First, reader A wonders about how to make a tucked shirt look more flattering:
I recently read a fashion post suggesting that a woman in a professional environment should never wear her shirt untucked. I am fairly short (5'3″) and busty, and the tucked-in look usually isn't very flattering on me. Though I can sometimes pull it off with a blazer on top, tucking my shirts tends to make my torso look very short and my bust look huge. Is it really necessary to wear only tucked shirts in a professional setting? I've always thought reasonably tailored, hip-length shirts were fine untucked, even in a conservative environment. What do you think?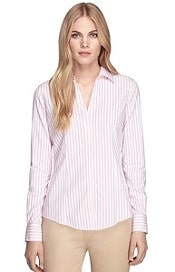 Meanwhile, reader S wonders if a tucked shirt is more of a polished look:
I was wondering if you could weigh in on a debate I'm having with a couple friends — we've been discussing whether it is more professional to wear a button-down shirt tucked or untucked with dress slacks/trousers. One person says untucked and tucked are equally professional, one person says tucked in is ok only if the trousers are worn with a belt, and one person says tucked in is always more professional! Thoughts? (And thanks!)
I'm curious to hear what the readers say here. We've talked about how to keep your shirts tucked, rounded up blouses especially for busty women, pondered whether an untucked shirt with jacket is a polished look for work, as well as done Hunts for crisp button-front blouses and silk blouses… but I'm not sure we've ever talked about whether you MUST tuck your shirt in for big events like interviews or presentations. For my $.02, as someone who (like reader A) is short and busty, the tucked-in look is rarely a good one on me, and I would consider an untucked, fitted blouse — worn with trousers or a pencil skirt — to be a classic workwear outfit. I would make a few caveats, though, for when you can wear a blouse untucked:
How and When to Tuck a Crisp Blouse
There are slightly different rules for crisp button fronts versus silky blouses, so let's discuss when to tuck crisp blouses first, such as the cotton non-iron one from Brooks Brothers pictured above or some of our other favorites below
the blouse should say "fitted" in the description, or have darts that make it fitted
it should hit at the top of your hipbone, not just below your waist — I've found that the shorter blouses are intended to be tucked, ironically.
Some Favorite Crisp Blouses:

Pictured above: pink / stripey / blue / white / blush
How and When to Tuck a Silky Blouse
Silky blouses can be trickier, because the rules for crisp blouses apply to some of them (particularly ones with a collar and darts) — they should be fitted and hit at the top of your hipbone. In addition to those blouses, though, there are a number of more relaxed styles that are not fitted that also, I think, look appropriate untucked.
the same rules apply as for crisp blouses for fit and hipbone, but note that most of these blouses will look better tucked (or layered beneath sweaters) in a conservative office setting. Some of our favorites are below!
you have more leeway if the blouse is uncollared, I think — there are a number of relaxed popover styles that are popular now
Some Favorite Silky Blouses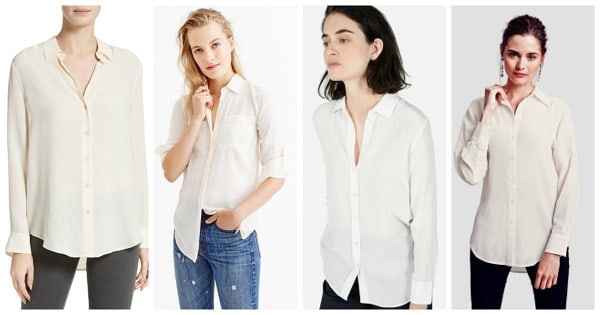 Pictured above, some of our favorite silk button-front blouses, $88-$214: one / two / three / (four sold out; similar).
Now: would I wear an untucked blouse for an interview?
I probably wouldn't, to be honest — this is one of the reasons I tend to prefer untucked, fitted silk sweaters beneath suits, but that's me. As for the belt question: I think most of the time a slim belt (less than 1″ wide, certainly) will make the look more polished — but that obviously isn't always the case, as Brooks Brothers illustrates with the blue version of the pictured blouse.
Readers, what say you — when do you leave your blouses untucked? What types of blouses (or situations) "demand" a tuck? Also: how do you feel about belts and blouses?
This post contains affiliate links and Corporette® may earn commissions for purchases made through links in this post. For more details see here. Thank you so much for your support!
Stock photo via Deposit Photos / pressmaster.