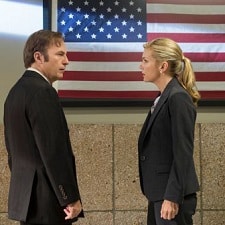 Do ponytails count as professional hairstyles? Which are the best ponytails for the office? Do you think 50s/cheerleader ponytails are no-gos for the office, or is any neat, easy hairstyle inherently professional?
Have you guys been watching AMC's Better Call Saul? It's the prequel story to Breaking Bad, chronicling the path that small-time con-man/lawyer Jimmy McGill took to become everyone's favorite drug lawyer (later known as Saul Goodman).
One of the story lines involves Jimmy working at his brother's BigLaw-esque law firm, and one of his main friends is Kim Wexler, played by Rhea Seehorn. Kim's story is similar to Jimmy's — she started in the mailroom, went through law school later in life, and is now working as an associate — but unlike Jimmy she's squeaky clean.
Psst: Below, find some of our favorite hair accessories for work as of 2023. Note that some of our long-standing favorite brands for quality, durability, comfort and styling include Ficcare and France Luxe. For more affordable options (which may not last as long), keep an eye out at Anthropologie, Ann Taylor, and J.Crew stores (including J.Crew Factory and Madewell). Also: Kat loves these flat elastics.
Without giving away too many spoilers, it's so inspiring to see her efforts to make partner, including a long montage where she calls every single person she knows to try to bring on her own client. In another scene, she does so well on her first court appearance that the opposing counsel tries to hire her. In general, she's a rockstar lawyer.
She dresses professionally, too — but something I've been pondering is her hair: her most frequent look is a ponytail. Not just the low, harried ponytail many of us throw our hair into when we're working in our office and want to keep our hair out of our faces — hers is curled, and part of her all-day look. And while it isn't super-high, it isn't super-low, either. (In general, I think a lower ponytail is vastly better for being taken seriously.)
Part of her character is that she's earnest and kind of new to this world of BigLaw — so is her hair supposed to convey that as well? (Ah, here's a picture of her ponytail from the back, below. And apparently the same actress wore the same hairstyle on another show where she also played a lawyer, but I'm not familiar with that show.)
Maybe I'm biased against ponytails that feel too pageant/cheerleader as professional hairstyles?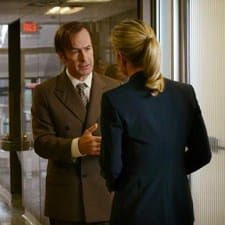 In the past, we've collected easy office updos (which included some ponytail looks), as well as discussed how to style long hair for interviews, but let's discuss ponytails, ladies — what makes them appropriate (or inappropriate?) for the office or other big meetings? Are there different rules for women in their 20s, 30s, and 40s?
Some thoughts from poking around the Internet: The Muse gives ponytails an enthusiastic thumbs up for professional hairstyles, and Buzzfeed has this niceish twisted ponytail for work, which I like so much I'm adding it to our Work-Appropriate Hair board on Pinterest.