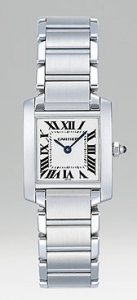 2017 Update: We've updated links below, and still stand by this advice on the best professional watches for women. 
Which are the best watches for professional women? Is it still worth investing in a quality watch, even though everyone uses their cell phone or computer to check time? Reader L wrote in to ask about watches:
I searched your site and found the post on digital watches, but I would love your (and your readers') opinions on non-digital wrist watches. It would be useful to hear suggestions at various price points.
This is a great question. I've written before about how I think watches are still status symbols. Not only do men's magazines all still advise men to go out and spend money on a watch, but I've often been at a lunch with high-achieving women, looked around, and noticed that 8 of the 10 women there were wearing Cartier watches.  In New York — at least among the legal and banking set — Cartier is kind of the first and last word, at least in my experience. My 30th birthday gift to myself was a Cartier Tank Francaise watch, though, so perhaps my perception is a bit biased! (It was a huuuuge splurge for this Midwestern girl.)
What to Look For: If you're spending money on something, I think you absolutely have to love it. So first and foremost, look for something you really love. Other considerations: look for a watch that will wear well with your daily activities — if you're a chef and washing your hands every two seconds, for example, you want a fairly waterproof watch.  Consider how the watch keeps time, also — for example, if you may not wear the watch daily, you may want to avoid a "perpetual motion" watch that stays wound through your body's motions.  The word on the street is you can wear gold jewelry with a stainless steel watch — but if that will make you feel awkward (like I always do!) then consider getting a watch with both gold and silver elements.  Finally, diamonds and other jewels: I think this is more of a "know your region" kind of thing.  Here in New York, I would think that a watch with diamonds on it was only for going out — but I have another friend in Miami who wears her bejeweled watch everywhere, including to court.
How to Buy It. I started noticing Cartier watches (and really wanting one) sometime in my late 20s. So I started thinking of it as, "every time I see one and want one, I'm mentally putting $5 into my "watch fund jar," which helped mitigate the purchase a bit when I plunked down the money. The other thing to know is that you can often haggle, especially at good watch stores. I bought my Cartier at Tourneau, and got somewhere between 15%-20% off the list price.  (I don't remember exactly how much it was now, but I remember that it was a very quick purchase because I had done so much legwork before I decided to actually purchase the watch, so I think it helped that the salesperson knew she had a fast and easy commission.)  These days, you frequently see Cartier and other watches on flash sale sites like Rue La La — a quick web search even shows Cartier watches for sale on Overstock! (Whenever you buy a watch from a secondary retailer, though, be very careful, and know what little things to look for. For example, on a real Cartier watch, the one of the bars on the V in the "VII" is actually the word "Cartier.") I know one good friend who confided in me that her parents bought her graduation watch — a Michele — at Costco.
Looking at some previous reader discussions (including this great comment from a reader who has a ton of great advice and confesses that "watches are my thing,") readers have also mentioned these brands: Omega, Baume & Mercier, Tag Hauer, and Movado.  FabSugar also recently did a roundup of 10 watches to wear forever.
Do I really have to buy a $3000-$5000 watch to fit in?   Nope.  Not at all.  Before I got my Cartier, I wore a variety of watches — most often, though, I wore my digital Timex.  Learn from my mistakes, ladies — a digital sports watch almost never looks good with a suit.  Beyond that, though, I don't think people notice what watch you're wearing.  (To clarify:  Watch people will notice if it's a Rolex or a Cartier or whatever they have, but I don't think they'll mentally "ding" you for having a less expensive watch or even notice the absence of a "good" watch.)  So for my money, at least, I would stick with inexpensive watches unless and until you were ready to make a "big" purchase.  (But if you fall in love with a $500 watch, go for it!)
Readers, do you wear a watch — and if so, what kind is it?  How much did you spend on it?  Do you notice which watches men and women at your office are wearing (or if they're wearing one)?  
Social media picture via Stencil.